Chalk one up for the soap opera fan and for the soap opera villain. Joseph Mascolo (Stefano DiMera) will return to Days of our Lives next month. His return comes a little more than a month after the actor was dropped from the show due to lack of story.
Earlier this year, the seemingly unstoppable Stefano fell into a coma. The medical condition was designed to give the character a bit of a rest while new storyline was crafted for the über-villain. That decision, however, didn't sit well with Mascolo. In an interview with Soap Opera Digest in May, a heated Mascolo blasted DAYS execs as having "double-crossed" him. The long-time DAYS star claimed that show brass would "have to come on bended knee" to ever get him to return to the show.
Mascolo later explained that his rhetoric was driven by emotion. He had just lost his father and admittedly lashed out at a situation that he felt was less than desirable. Now, Mascolo praises head writer and executive producer Ken Corday for coming to a "mutual conclusion" that allowed his return to DAYS. The veteran actor also knows that his fans also played a part in getting DAYS to reconsider his dismissal.
"A huge thank you to everyone who wrote to let me know how much they missed Stefano on Days of Our Lives, and to those of you who took the time to let the show know how you felt," Mascolo wrote in a statement on his official web site. "Obviously, your input must have had some impact because Stefano will be coming back to Salem and will be seeking revenge!"
Mascolo's history with Days of our Lives reads like a great novel. His character has been killed off so many times that he's been dubbed, The Phoenix. Like his mythical namesake, Stefano never lets death have the final word and somehow always finds a way to rise from the dead.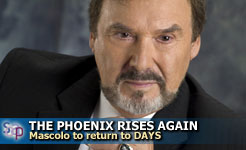 Mascolo has played Stefano DiMera off-and-on since 1982. During a previous dispute with DAYS, Mascolo jumped ship and joined the cast of rival soap The Bold and the Beautiful. Mascolo remained with the CBS soap from August 2001 to July 2006. In addition to DAYS and B&B, Mascolo has also appeared on Santa Barbara and General Hospital.
A first airdate has yet to be confirmed for Mascolo, but it is expected in early August, just before NBC's Olympic break.