Fans still mourning the end of Passions' nine-year run can find some comfort in two recent hirings by Days of our Lives. Former Harmony residents Eric Martsolf (ex-Ethan Winthrop) and Galen Gering (ex-Luis Lopez-Fitzgerald) will set up shop in Salem later this fall. One of the actors will take on a newly created role, while the other gets the task of tackling a recast.
Gering will join Days of our Lives next month in the role of Rafael, an originaly unnamed FBI agent that will cross paths with Sami Brady. Named one of People Magazine's "50 Most Beautiful People" in 2000, Gering was a member of Passions for the show's entire run.
"Galen Gering will be joining the cast of Days of our Lives as an FBI Agent who comes to Salem working on a special case," a DAYS spokesperson tells Soap Central.
Gering was originally slated to debut on Days of our Lives on October 31st.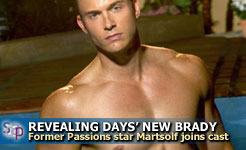 Meanwhile, Soap Central has also learned that Eric Martsolf has been hired as DAYS's new Brady Black. Martsolf joined Passions in 2002, taking over the role of Ethan from Travis Schuldt. Martsolf also appeared in the feature films Spanish Fly and The Cheater.
Emmy-nominated Kyle Lowder was the last actor to portray Brady, having been a member of the DAYS cast from 2000 to 2005. Lowder currently appears as Rick Forrester on CBS's The Bold and the Beautiful.
So why is DAYS bringing Brady back after a three-year break? Apparently, there are a few loose ends to tie up.
"Eric Martsolf will be taking on the role of Brady Black and will return to Salem to settle unresolved issues with Chloe," says the DAYS rep.
Martsolf's addition to the cast was always targetted for mid-November, but the network has now issued a definitive first airdate. Martsolf will debut on November 13th.