Blake Berris (Nick Fallon) bids farewell to Days of our Lives this week. As previously reported, the actor's exit was brought about by the recent budget cuts made in the wake of NBC's decision to renew the long-running daytime drama series.
In a recent interview, Berris confessed that he knew in September that his time in Salem would soon be coming to an end. It was then that Days of our Lives' executive producer, Gary Tomlin, revealed to Berris that his on-screen alter ego would turn out to be killer. While the plot twist gave Berris the opportunity to play his "dream role," it also started the clock ticking down towards his final appearance.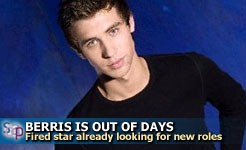 "The writing was really real," Berris told Soap Opera Digest. "It didn't have all the melodramatic way about it."
During his time with the NBC soap, Berris took time out to film several appearances in the USA Network's original series, The Starter Wife. Berris has already turned his attention towards landing his next gig. The actor says that he'd enjoy guest appearances on primetime, but did not offer comment on whether or not he'd be open to another soap role.
Berris joined the cast of Days of our Lives in November 2006. He makes his final appearance on January 15.