In a recent interview, former Days of our Lives star Lisa Rinna (ex-Billie Reed) offered a candid look into her post-soap world, a world that includes posing nude for a famed gentleman's magazine and overindulgence in plastic surgery.
Known to soap fans for the four years she spent in Salem, Rinna rose to greater awareness among the masses for her Emmy-nominated work on the talk show, Soap Talk, a stint on Melrose Place, and, later, for rhumbaing her socks off on Dancing With the Stars. Now, Rinna, who last night hosted a live Red Carpet arrivals gig at the Golden Globes, is now prepping for her newest in-front-of-the-camera venture: a scripted reality show.
In an interview with momlogic.com, a web site devoted to covering news of relevance to mothers everywhere, Rinna reveals that the show will be titled I Love Lisa, a take-off of I Love Lucy. The program will follow Rinna, husband Harry Hamlin, and their two daughters (Delilah Belle, 10, and Amelia Gray, 7) in their daily routines. Unlike other reality programming, this reality show will be scripted. How a "reality" show can be scripted remains to be seen. However, Rinna insists that the purpose of scripting the new series is to ensure that it will be a comedy. A pilot for the series will be shot for the TV Land cable channel in the next few weeks.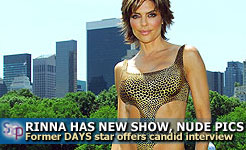 Something else that is in the works for Rinna definitely will not involve Rinna's daughters, but it may ultimately impact their lives. Rinna is planning to pose sans clothing for Playboy. It's not the first time that the actress has shed her clothing for the popular magazine. In September 1998, Rinna posed for Playboy while pregnant with her first child. The actress says that she and her husband discussed the pictoral with their daughters, but that discussing a future Playboy spread will be much more difficult.
"They were definitely a consideration. [Posing] can be a way of expressing yourself and your sexuality. You can control it and control your image," Rinna says. "If and when we have to go there, it will be a family discussion that will be challenging and hopefully thought-provoking. I view sexuality in a different way. It doesn't mean you're a victim. Doing this can be a strong and powerful choice."
While discussing the choices she's made in her life, Rinna also candidly admitted to having regrets about some cosmetic procedures -- particularly using a firming agent in her cheeks.
"You get older and insecure and you think you need it and you don't," Rinna reveals. "I learned less is more. [...] When you change your face, you don't look like yourself. Looking fresher is one thing. I look like a freak!"