Darin Brooks (Max Brady) is hard at work, but not just on Days of our Lives. The actor recently traveled to Montreal to begin work on the pilot for a planned cable sitcom.
According to the Hollywood Reporter, Brooks will play one of the three lead roles in a new sitcom called Blue Mountain State. The show follows three incoming freshmen attending a fictional Midwestern college, as they try to quickly adapt to college life and juggle football, girls, classes, and nonstop hazing.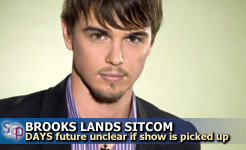 Brooks will play Alex, a talented quarterback who'd much rather party than put in the hard work required to be a superstar. Chris Romano, Sam Jones III, and former NFL running back-turned-actor Ed Marinaro also star in the project.
Blue Mountain State is being developed by Brian Robbins and penned by two of the writers from The Sarah Silverman Program. If it is picked up for full production, the sitcom is slated to air on SpikeTV.
Brooks joined the cast of Days of our Lives in June 2005. In 2008, the actor earned a Daytime Emmy nomination for Outstanding Younger Actor, becoming one of the NBC soap's first acting nominations in several years.