After four years with Days of our Lives, Rachel Melvin (Chelsea Brady) has announced that she will exit the show when her contract expires later this year. The news has been met with disappointment from fans, but the show's top executive has offered words of encouragement to the actress.
"I called her and I applauded her move," Days of our Lives' executive producer, Ken Corday, said in a statement. "I said, 'It's time for you to spread your wings and I want to see you in feature films and big television.'"
Melvin has already been featured in a handful of primetime guest appearances as well as two feature films, the 2008 direct-to-video release of Legacy and 2005's horror flick, Boo.
Unfortunately, rumors of why Melvin is leaving have begun to spin out of control on various sites around the Internet. The chatter has gotten so out of control, that Melvin has had to issue an official statement regarding her intentions.
"I have to admit that I'm kind of disappointed in some of the rumors I've been hearing in regards to my decision to leave," Melvin wrote on her official web site. "People have gone so far as to speculate that I'm leaving because I 'wasn't getting my way' with storylines, or that I was 'disappointed with the way the show was going.'
In an interview with Soap Opera Digest, Melvin reveals the surprising reason for her exit.
"It was never my intention to be on a soap opera for as long as I was," Melvin explains. "When you think of soaps, you think 'Oh, beautiful people,' and I never categorized myself that way, and I guess I just kind of discounted the possibility of working on one."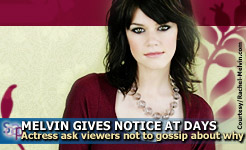 Melvin's exit comes at a time when Days of our Lives has been going through somewhat drastic steps to trim its operating budget. Those steps have included the dismissals of popular actors, prompting many fans to lash out at the sole remaining NBC soap.
"I understand our show has had to sacrifice many things and has been forced to take tremendous amounts of cutbacks, which have greatly altered the way we operate. But to clear the air about the other rumor, my leaving has nothing to do with the current status of the show or my current limited amount of airtime," Melvin continued. "I realize people are disappointed in some decisions that are being made, but I beg you to look at it as I do: I am not in Ken or Gary Tomlin's shoes right now, understanding the pressures, demands, or logistics of our show and its' current budget. I know at times it can be frustrating to adapt to storylines you can't get into you, or see characters you love depart, but everything comes in ebs and flows. Just understand that everyone is doing their best and no one wants to see the show suffer in any way, nor do they want to 'sabotage' it.
As for Chelsea's future in Salem, there isn't really much of one. The show is not making any plans to replace Melvin after she leaves.
"We're not recasting the character," Corday states, noting that "the door is open any time" should Melvin want to return.
With her final on-screen appearance yet to come, Melvin states that she's been doing a lot of waiting... waiting for new next job offer and even waiting for her hair to grow out so that she can sport a new look, if needed. A final airdate for Melvin has yet to be announced.