Thaao Penghlis (Tony DiMera) is the latest casualty of Days of our Lives' ever-shrinking roster. The veteran actor and recent Daytime Emmy nominee has been let go. While fans may lament the loss of yet another long-time cast member, Penghlis has a surprisingly different reaction. Not only did he see his dismissal coming, but Penghlis says he's "relieved" to be let go.
"I did live through the best of DAYS. And what a great group of people who have been there to share it with me," Penghlis said in a statement on his official web site. "Changes are in the air. Understand that people's visions are paralleled by the tools they carry. I'm fine and so is Leann [Hunley, (Anna DiMera)]. And a great part of me is relieved."
In his remarks, Penghlis seems to hint that he laments the days of old at Days of our Lives, but in an interview with Michael Fairman, Penghlis doesn't mince words. The Australian-born actor clearly places the blame for the fall of Days of our Lives from a one-time powerhouse to its current status of having to cut its budget to remain afloat on a former head writer.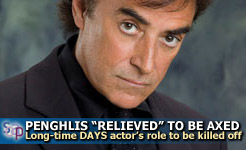 "DAYS is not DAYS anymore. It's an extension of what it was; it's not the body or the heart of what it was," Penghlis remarks. "We were all part of that, especially those that just left and I think we were the best of daytime. I think, hands down, the James Reillys of the world have destroyed daytime. They took the thing that people watched, which was great reality and passions, and made it into somewhat of a joke and cartoons. However, I must say, the fact that DAYS has remained on so long is a credit to the show. It has such a wonderful history and I will miss it."
While Penghlis' Tony has made numerous back-from-the-dead returns, it doesn't look like that will happen this time. Tony will be killed off in a major whodunit storyline -- and the character will be truly dead. Less certain is the fate of Penghlis' aforementioned on-screen love, LeAnn Hunley.
The dismissal of Penghlis -- and several stars before him -- has prompted discussion about whether or not Days of our Lives is actively trying to cut performers over a certain age. One published report states that a top producer for the NBC soap said that there were "too many people... over 40" on the show. Meanwhile, executive producer Ken Corday refutes that there isn't any sort of ageism taking place behind the scenes.
"To say that the old guard is leaving DAYS isn't true; in fact, many of the old guard are playing more story than they have in a long time," Corday told Soap Opera Digest.
Penghlis debuted on Days of our Lives in 1981. His most recent return to the show came in June 2002. A final airdate has not yet been announced for Penghlis.