In the 16 years that Alison Sweeney (Samantha Brady) has been a part of the Days of our Lives cast, she's seen it all. She's seen her mother possessed by the devil, she's swapped a paternity test or two, and she's been sentenced to die by lethal injection. It's just another day in the life of your typical soap opera heroine. In the real world, Sweeney has battled something far less exotic, but something that affects millions of Americans: allergies.
Sweeney vividly recalls her first day on the Days of our Lives set like it was yesterday. For Sweeney, this wasn't just the start of a new job; it was the start of a job working with people she'd admired as a fan of Days of our Lives.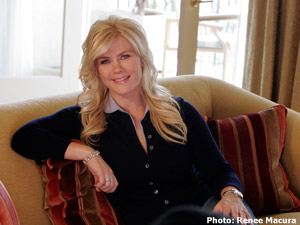 "I remember my first day at work. I was so excited to be a part of a show that I'd been a fan of," Sweeney recounts excitedly. "I even remember my audition. My first two weeks on the show I was sneaking around Salem, so there weren't a lot of lines to memorize. My first scene was with Wayne Northrop (then-Roman Brady), who pulled a gun on me and said something like 'Freeze or I'll shoot!'"
Sweeney admits that lurking about as a shadowy figure was an easier transition into the soap world than most newcomers get. Having to learn pages and pages of material every day wasn't the easiest task to master, but Sweeney says that she's become a pro at learning her lines.
"You definitely have to develop your mind in order to memorize 20 to 30 pages of dialogue per day," Sweeney reveals. "It's like exercise. Your brain's a muscle just like everything else."
While she may not be able to remember lines from years past, Sweeney does remember just about every storyline her character has had to endure over the past 16 years.
"I can recap stories, but sometimes I can't remember all the details. I was doing a scene in St. Luke's, and Ari [Zuker (Nicole Walker)] and some of the other actors, and we were playing this game. I remember looking up at the stained-glass window and the church and remembering all the crazy scenes that I've had in the church: Shawn bursting through the window on a motorcycle, someone in the rafters trying to shoot everyone."
While it's not quite as difficult as dodging a crazed sniper, it did take Sweeney, a life-long allergy sufferer, a while to be able to get her allergies under control. Eventually she found relief thanks to Zyrtec-D or Sudafed, depending on her symptoms. Sweeney confessed that she was surprised the first time she went into a pharmacy and learned that her medication had been put behind the pharmacy counter, or BTC. The move had been made because of concerns that people were using allergy and cold medicines for purposes other than their intended use. Now, there have been reports that some consumers are fearful of having to ask for medicine that is no longer in the aisle of their local drug or grocery store.
"It seems to me that it's more of an inconvenience factor than fear. The first time I realized I had to go behind-the-counter to get my medicine, I talked to the pharmacist to understand how to get it," Sweeney explains. "You have to show your ID to buy [the medicine], but you have to show you ID for a lot of things - buying wine, using a credit card, and even getting into the building I'm in now."
There are some people who don't understand the impact that allergies can have on others' lives. They may dismiss it as a little case of the sniffles and not fully understand the suffering that allergies can bring.
"80-percent of people allow allergies to slow them down because they don't know how to control them. A lot of people feel that they have to accept it as a part of their day," Sweeney says. " I am busy. I have two kids, I have a job, I want to play baseball outside with [my son] Ben or I might be on a location shoot with The Biggest Loser. I have to be able to do my job. One of the worst things for me is that my nasal congestion actually changes the sound of my voice. Also I often get itchy, watery eyes, interrupting a scene...and it doesn't make my makeup artist happy, either. Frankly, Sami cries enough -- I don't have to let my allergies get in the way."

CONTINUE READING TO PART TWOSweeney tells funny DAYS stories and talks about the fans.