As previously reported, Rachel Melvin (Chelsea Brady) and Darin Brooks (Max Brady) are both exiting Days of our Lives. Both performers opted on their own to exit the NBC soap, unlike many other recent departures that were driven by cost-cutting measures.
Melvin makes what was slated to be her final Days of our Lives appearance this week when the character leaves Salem for London, where her mother, Billie, has been involved in a serious accident. Melvin states that show executives asked her to return for two additional episodes to help usher Brooks's character off-screen.
"They asked me to come back for two days in May to close out Max's storyline, so my last day wasn't really my last day," Melvin tells Soap Opera Digest.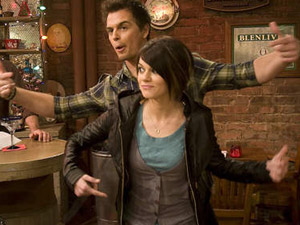 There is already talk on Internet message boards that Melvin has been approached for a new daytime role -- a rapidly aged Kristina Davis on General Hospital. The actress quickly dismissed the rumors as untrue.
"My plan is for a year to stray from the soap path because I told [Days of our Lives' executive producer] Ken Corday, the reason I was leaving the show is because I wanted to do other acting," Melvin explains. "It may end up that I come back to daytime and that's what I like at the end of the day, but right now, I just need to explore other options."
Brooks, meanwhile, has already landed a post-DAYS job. The actor will play one of the three lead roles in a new sitcom called Blue Mountain State. The show follows three incoming freshmen attending a fictional Midwestern college, as they try to quickly adapt to college life and juggle football, girls, classes, and nonstop hazing.
When Melvin returns in a few weeks, her character will announce that she's planning to permanently relocate to London so that she can attend medical school. Max will opt to leave with Chelsea, providing the pair the opportunity to have an off-screen happy ending.
Melvin makes her final appearance on June 10, while Brooks will last air on June 19.