Emmy winner Crystal Chappell (ex-Carly Manning) will return to Days of our Lives later this year. The actress, who currently stars on Guiding Light, will not be sticking around to see if the 72-year-old soap is picked up by another network after it airs its final episode on CBS in September.
In an exclusive interview with TVGuide, Chappell admits that her return to Days of our Lives -- after nearly two decades away -- caught even her by surprise.
"I sure didn't expect this at all but it's very exciting" Chappell told the magazine's Michael Logan. "I was in L.A. a couple of weeks ago and had some meetings set up to discuss the future. [Days of our Lives executive producer] Gary Tomlin called and asked if I'd be interested in coming back. We had lunch and, a week or so later, we had a deal. My kids have been asking me for a year, 'When are we gonna move back to California?' So they're very excited. It's the show where their mommy and daddy met."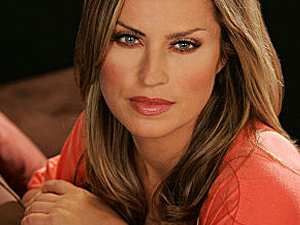 Chappell is married to actor Michael Sabatino, who, among his many daytime roles, played the role of Carly's husband, Lawrence Alamain. The pair was married in 1997.
It's been 16 years since Chappell last appeared as Katerina Von Leuschner, a.k.a. Carly Manning. In addition to her work on Days of our Lives and Guiding Light, Chappell has also appeared on One Life to Live and Santa Barbara.
If Guiding Light does find a home on another network, Chappell's departure means the end of one of the show's most popular couples, Olivia Spencer and Natalia Rivera, affectionately dubbed "Otalia." Chappell admits that she was one of the fans who was rallying to find a way to explore the two women's relationship in more detail - perhaps in a Guiding Light spinoff. The decision, Chappell says, was out of her hands. Now with her signing to the NBC soap, it remains unclear how Guiding Light will pen the story in its final episodes.
Chappell will first air on October 2.