Another Days of our Lives favorite will be returning to the show in the weeks ahead. Louise Sorel (Vivian Alamain) will return to Salem this fall. Sorel appeared previously as Vivian from 1992 through 2000.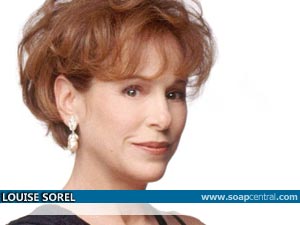 Sorel's career began in theater and included several years spent on Broadway. Eventually, the actress found work on television. In addition to numerous guest-starring roles in primetime, Sorel has appeared on five other daytime drama series. She made her soap opera debut in 1984 as Santa Barbara's Augusta Lockridge. Sorel's next stop was a one-year run on One Life to Live. Upon leaving DAYS in 2002, Sorel made short-term appearances on All My Children, Passions, and Port Charles.
Despite being one of the show's most popular villainesses, playing Vivian also afforded Sorel a chance to flex her comedic acting chops. Her return to Days of our Lives will also put her squarely in the path of rival Carly Manning. Last month, Emmy winner Crystal Chappell confirmed that she would be reprising her role as Carly this fall. In one of Days of our Lives' most memorable storylines of the early 1990s, Vivian buried Carly alive.
When last spotted, Vivian was headed out of town with Ivan to help him spend his multi-million dollar lottery prize.
A first airdate has not yet been announced for Sorel, but it is expected to come near the end of September.