There's been another surprise un-casting decision at Days of our Lives involving the Hernandez family.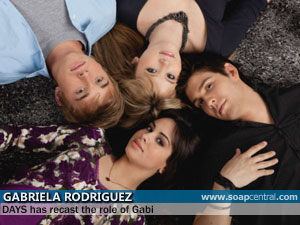 Soap Opera Digest is reporting that actress Gabriella Rodriguez (Gabi Hernandez) has been let go. Effective immediately, Camila Banus (ex-Lola Montez, One Life to Live) will assume the role.
It is unclear why Rodriguez might have been let go, but there is some speculation that the show might want to age Gabi slightly.
Banus reported for work on July 30, and is expected to make her first on-screen appearance sometime in September. Banus appeared previously in daytime during a seven-month run on One Life to Live.
Rodriguez joined the Days of our Lives cast in November 2009.
This is the second unexpected casting decision in a month at DAYS. It comes on the heels of the previously announced ouster of Lindsay Hartley (Arianna Hernandez) from the show.
Photo: NBC