Days of our Lives star Deidre Hall (Marlena Evans) is recuperating from a mishap that's left her with a broken arm.
"Grrrr. Took an annoying turn in my dance class and broke my wrist in two places," Hall shared on Facebook along with a photo of her left arm in a sling. "Possible surgery this week. Look for Marlena to have a broken wing in a few months!"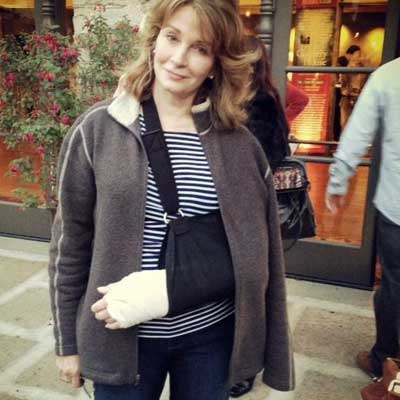 Hall stated that she spent Friday, April 18, in the ER, but noted that she went to the theater later that evening.
Hall was able to find the silver lining in her misfortune.
"The good news??? I have wonderful people to dress me, style my hair and apply my make up," Hall added.
Due to DAYS' taping schedule, Hall's injury will not show up on-screen for several months. It is unclear how the show will write the injury into the show.
UPDATE:
On April 23, Hall posted an update. "Saw the surgeon, having the operation on Friday," Hall added. "Apparently I will be good as new within the month."
Send your get well wishes to Deidre in the Comments area below or you can also click here to submit feedback.