Eileen Davidson (Kristen DiMera) may have just left Days of our Lives, but you can't keep a good villainess away for too long. The actress is already back on-set at DAYS!
The Emmy-winning actress, who is currently airing as Ashley Abbott on CBS's The Young and the Restless and recently confirmed that she'll be part of the third season cast of Bravo's The Real Housewives of Beverly Hills, returned to NBC's Burbank studios last Friday to film some additional DAYS scenes.
Davidson's first episode of The Real Housewives of Beverly Hills is set to air on November 18, 2014.
Because DAYS tapes so far in advance, Davidson will not pop up on-screen until Spring 2015 -- but we have a sneak peek photo from Davidson's first day to help tide you over.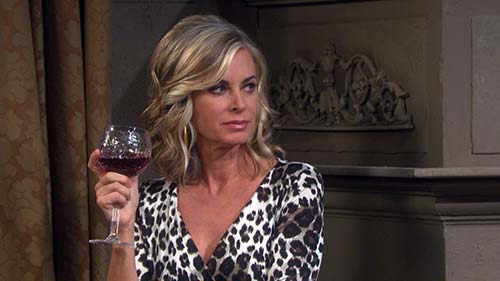 Are you excited that Eileen Davidson will be headed back to DAYS? What do you think the writers have in store for Kristen? Tell us what you think in the Comments area below, or you can also click here to submit feedback.
Photo Credit: Howard Wise/JPI