New Days of our Lives' head writer Ron Carlivati isn't just an Emmy-winning soap opera scribe. The New York native is also a huge fan of the genre, which has a lot to do with why many of his storylines on both One Life to Live and General Hospital were both critically acclaimed and viewer approved.
Though it's nearly impossible to narrow down the greatest moments from his decade of head writing experience, Soap Central has delved into his immense body of emotional, Emmy-winning work and -- after consulting fans and industry colleagues -- chosen five moments we think are his absolute best, moments that have earned him a spot as one of the most talented writers in the genre.
Luke's Mental Breakdown on GH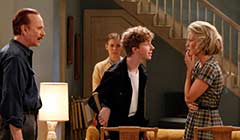 Knowing that General Hospital icon Anthony Geary (Luke Spencer) was heading toward retirement, Carlivati was faced with the challenge of giving the actor a jaw-dropping exit storyline -- and he sure as hell delivered.
During the year leading up to Geary's final airdate, Carlivati began a storyline that initially had viewers perplexed: Luke began acting extremely strange, doing all kinds of crazy and illegal things that were completely out of character. It got so out of control that Luke's friends and family (as well as viewers) assumed perhaps an imposter had taken over and was the one responsible for committing Luke's baffling crimes. In a search for answers, Luke's wife, Tracy (Jane Elliot), and his daughter, Lulu (Emme Rylan), tracked down Luke's long-lost sister Patricia (Dee Wallace) for answers.
In a dramatic turn of events, Patricia revealed that as a teenager, Luke had stood up to his abusive father in an attempt to protect his mother. In doing so, he had accidentally struck his mother in the head with a baseball bat, and she had died from the injuries. He went on to kill his father with the same bat, but Luke was unable to recall either event. Patricia, with help from Bill Eckert, had covered up what Luke had done, and they disappeared from his life with the hope that he would never remember what had happened all those years ago.
The shocking revelation about Luke's childhood and the medical treatment he received afterward helped Luke to acknowledge that he had suffered a mental breakdown following his parents' tragic deaths that triggered a dark side to periodically emerge and wreak havoc through the years. Luke even admitted that the instances in which he had left town and disappeared were his attempts to deal with being "not right in the head."
The emotional storyline not only took viewers on a trip down memory lane and paid tribute to GH's history (the dramatic events in Luke's childhood took place on the same day the soap opera debuted in the 1960s), but it also helped explain some of Luke's bad behavior and absences over the years. What's more, portrayer Anthony Geary won an Emmy for his work in the storyline, which allowed him to bow out of the genre with a bang.
Amnesiac Marty Sleeps With Her Rapist, Todd, on OLTL
In addition to being known as a fantastic "umbrella story" writer, Carlivati is known for writing one of the most controversial storylines in daytime history: the moment Marty Saybrooke -- suffering from amnesia -- unwittingly slept with her rapist, Todd (Roger Howarth/Trevor St. John). It's a story twist that some fans are still fuming over.
The extremely sensitive and jaw-dropping story began in 2008, when Marty's portrayer, Susan Haskell, became available to resume the role she originated in 1992. Todd was shocked to find Marty, who was previously presumed dead, holed up in a cabin with amnesia and unable to walk. Seizing the unique opportunity to perhaps right the wrongs of his past (in a way only Todd Manning could do), Todd led Marty to believe they were old college friends and whisked her back to his place, where he began nursing her back to health. Over the course of several weeks, Todd filled Marty's mind with lies about her past and continued to cover up the fact that he had led a gang rape on her when they were in college in the '90s. Much to viewers' shock and horror, Marty actually began falling for Todd, and the pair made love in November of 2008.
Needless to say, Marty was devastated when she finally regained her memory and learned the truth about Todd. But that was only the tip of the iceberg of the drama to come. Carlivati upped the tension by bringing back Todd's former wife Téa Delgado (Florencia Lozano) to act as his defense lawyer in his resulting trial. Much to Marty's utter horror, the rape charges against Todd were dropped after a scathing cross-examination in which Téa cornered Marty into saying that regardless of her amnesiac mental state, she had invited Todd's "lovemaking."
Disgusted with the turn of events and wanting Todd to pay for his crimes, Marty pretended to still be in love with Todd in order to convince him to commit suicide -- and fans watched in horror as he did just that, jumping off the roof of the Palace Hotel at her command and plummeting into the river below. In the end, Todd was rescued by his ex-wife Blair (Kassie DePaiva). But nothing could save the heartbeats of fans that nearly died from shock during the intense and nail-biting storyline.
The Starr/Jessica Baby Switch + Cole's Drug Problem on OLTL
Carlivati knows how to tug at viewers' heartstrings in sweeping umbrella storylines, as evidenced by OLTL's 2008 baby swap storyline involving Starr (Kristen Alderson) and Jessica (Bree Williamson). Though many fans were able to predict that a baby switch was on the way, the immensely thought-out umbrella story delivered on every level all the way through 2009. It made use of the show's rich history, involved many major characters on the canvas, served as two social issue storylines, and was intensely imaginative.
It all began when beloved teen character Starr Manning found out she was pregnant with Cole's Thornhart's (Brandon Buddy) baby. The pregnancy, which was tied to the National Campaign to Prevent Teen and Unplanned Pregnancy, was extra controversial because Starr's father, Todd, had raped Cole's mother, Marty -- which gave the teens' relationship a Romeo and Juliet feel.
Meanwhile, Starr's cousin Jessica also became pregnant, but her situation grew delicate after the baby's father -- Jessica's true love, Nash (Forbes March) -- died in an accident. The tragedy caused Jessica's dissociative identity disorder (a.k.a. multiple personalities) to flare up, and her nasty alter ego, Tess, took over to enact revenge on Jessica's sister, Natalie (Melissa Archer), and her beau, Jared (John Brotherton) -- whom Jessica blamed for Nash's death. The situation spiraled even further out of control with the emergence of Bess, the meticulous and even more dangerous of Jessica's alter egos.
In a series of extremely dramatic events, Starr's teen pregnancy storyline and Jessica's multiple personality storyline collided. When Jessica's baby was stillborn, Bess -- who was still in control of Jessica's mind -- drove herself to the hospital after labor and switched her dead baby with Starr and Cole's healthy baby. When Jessica reemerged, she had no memory of the swap and believed the healthy baby girl to be her own. Meanwhile, Starr and Cole mourned the loss of the dead baby they believed to be theirs while their doctor -- convinced she had missed something simple in the teen parents' blood types that could have prevented the baby's death -- killed herself out of guilt.
But the intense storyline didn't stop there. Following the death of his baby and the unexpected rejection from his mother (whose behavior had changed after being held captive by her rapist, Todd), Cole broke up with his long-term girlfriend, Starr, and numbed his pain with drugs. The dark storyline took an even darker turn when a drugged-out Cole got behind the wheel of a car with his friend, Matthew Buchanan (Eddie Alderson), and ended up crashing his car into Shane and Gigi Morasco's car. The devastating accident left Matthew -- son of legacy OLTL characters Bo (Robert S. Woods) and Nora (Hillary B. Smith) -- paralyzed from the waist down.
Article continues below advertisement
The Revival of Fraternity Row (or rather, Screw U(niversity?), ABC) on OLTL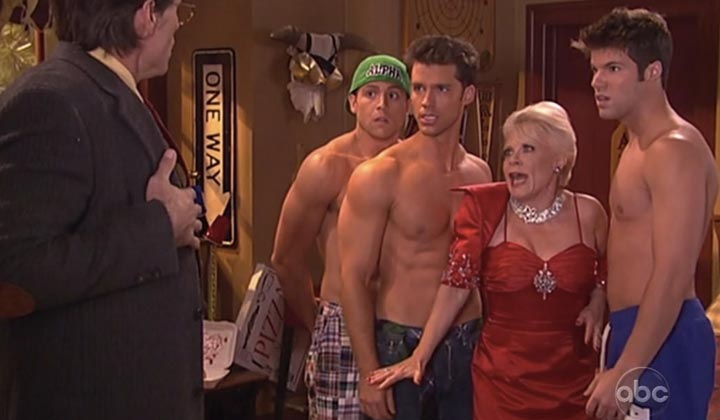 It wasn't just fans that were pissed when ABC decided to unceremoniously cancel OLTL in 2011; Carlivati wasn't too pleased with the devastating news, either -- and he cleverly found a way to work his and fans' frustrations into the series' scripts as OLTL began to come to a close.
In a move that showcased both his humorous side and his "F" you side, the Emmy winner decided to revive an OLTL storyline from the 1980s known as Fraternity Row. The original storyline was a soap-within-a-soap that involved many core players and focused on the backstage antics of the fictional soap's stars.
Carlivati's reimagined version began with Roxy (Ilene Kristen) finding out that her very favorite soap opera, Fraternity Row, had been canceled. In a fun fantasy episode that made use of the comedy of swapping leading and supporting actors, Roxy fainted upon hearing the news of the show's cancellation and woke up as Lorraine, the leading lady (a.k.a. Erika Slezak) of the soap. Meanwhile, Slezak's character, Viki, and Jerry verDorn's character, Clint, played the maid and butler -- while Lorraine was married to David Vickers (Tuc Watkins).
The comedic episode was Carlivati's "Valentine" to millions of heartbroken and disappointed OLTL fans, with die-hard Fraternity Row fan Roxy representing the viewers who fought so hard to save the ABC soap from cancellation.
Ava Jerome's Reign on GH
A self-professed Dynasty fan, Carlivati is a master at writing storylines for female villains. He penned a lot of brilliant material for Robin Strasser's OLTL character, Dorian Lord, including many hilarious scenes with her wacky lover, David Vickers. But his true "cake topping female villain moment" was the creation of GH's Ava Jerome (Maura West). Introducing the character to the canvas was Carlivati's unique way of bringing more fire to the soap's rich history between the infamous Jerome crime family and Port Charles's mob family, led by Sonny Corinthos (Maurice Benard).
Ava hit the screen in 2013 as the only daughter of Victor Jerome (Jack Axelrod) and Ryan's Hope's Delia Ryan (Ilene Kristen) -- making her the half-sister of Evan Jerome, Olivia St. John (Tonja Walker), and Julian Jerome (William deVry). She tied in to the canvas even further as the ex-girlfriend of Franco (James Franco/Roger Howarth) and the mother of Kiki Jerome (Kirsten Alderson/Haley Erin).
When she hit the canvas, nefarious Ava attempted to use her daughter's faked paternity to win control at ELQ Industries as part of a scheme with Julian to reclaim the Jerome family's territory from mob boss Sonny. Her arrival in Port Charles not only ruffled Sonny's feathers, but it also shook up Ian Buchanan's Duke Lavery and Finola Hughes's Anna Devane, both of whom also have a rich history with the Jerome family.
Though not a storyline per se, the creation of Ava forever changed the face of GH, and she's a character that will undoubtedly go down as one of the best in the soap's long history.
What do you think about our list of Ron Carlivati's five best soap opera storylines? Do you agree that these were his five best moments? If not, which storylines would you list as his top five of all time? We want to hear from you -- and there are many ways you can share your thoughts.