When the Rolling Stones croon, "You can't always get what you want," they surely have Days of our Lives character Kate Roberts in mind. It's been twenty-five years since her creation, two actresses have played her (Deborah Adair from 1993 to 1995 and Lauren Koslow since 1996), and she's still struggling to achieve the true power she yearns for deep in her heart -- a feeling that grows stronger each and every time she comes near but is unceremoniously cut off at the knees (which has happened on more than a few occasions over the past quarter century).
But could all the familial teachings from Stefano (Joseph Mascolo) coupled with the recent death of André (Thaao Penghlis) finally give Kate the matriarchal moment she deserves? And speaking of those gone-but-never-forgotten characters, how does Kate's slew of complicated romances play into the woman she is today? Soap Central spoke with portrayer Lauren Koslow, who is celebrating twenty-two years as the beloved character, to find out.
Soap Central: Have the past twenty-two years flown by for you in the same way they've flown by for fans?
Lauren Koslow: Yes! [Laughs] Life does seem to speed up as you move along.
Soap Central: It's been over two decades, but do you remember your first day on the show?
Koslow: Yes, I totally remember. I remember what I wore, I remember walking down the hallway. It's so funny, because my husband had just gotten me a new tote bag that was so cool, and I just loved it. And I was wearing jeans and had UGGs on. Seriously, I don't know why that stands out! It's so funny. But I do remember. It was a pretty dramatic storyline that I was stepping into. Kate was on a fishing boat, she had been kidnapped, her plane had crashed, and there was a whole bunch of adventure that she had been through, and then when I was picking it up [where former portrayer Deborah Adair had left off in 1995], she was being kept prisoner on this fishing boat and had to chop up fish, and she tried to escape, all these things. It was great fun. Really, really great fun.
Soap Central: I imagine it's pretty great to be dropped into cool storyline like that so suddenly, as opposed to a slow buildup.
Koslow: It was so different than what I'd done on The Bold and the Beautiful [as Margot Lynley], because I started out in jeans and a work shirt and very little makeup, and after she escaped from the fishing boat, she was marooned on a deserted island. She just washed ashore and didn't know if there were beasts living there. I mean, it was crazy! It was just so different from what I had done before. My role on B&B was very glamorous. Later, Kate became glamorous, but it was a great way to start. I was working with John Aniston [Victor Kiriakis) and Louise Sorel [Vivian Alamain], which was just wonderful. Everyone was so welcoming, and it was just great. And it really has never changed. It's been wonderful.
Soap Central: You were a recast, so how did fans react to you at the time? Via letters of course, because this was before social media!
Koslow: Well, as a recast, there always is a reaction! There are some people who love it and people who hate it, and of course, there are people in between. But you're right: it was by letter or occasionally you would get fan comments if you did an appearance. I remember my first fan gathering. Most people were pretty positive about it, because usually, they're fans of the actors, but they're really fans of the characters, too. So if you really liked that character, you want the character to come back. It might be with a different actor, but it's just one of the things that happens in our genre. And those people were pretty enthusiastic. I remember one person who was not happy, though, and really wanted to explain to me why, and I was like, "Um, okay, thank you." At the time, I was asked about being a recast a lot. But I had come out of theater, and when you're doing theater, if you're not doing an original play, you're playing a role usually that has been portrayed by someone else. So, I was very used to doing that, and I didn't think it was a big deal. You try to be very respectful to the person who played the role before, of course. Deborah Adair played the role before me and put her mark on it, but then you come in and want to put your own mark on it, too. And I think the character did gradually change and go in a different direction.
Soap Central: How could she not? After so many years, a character has to sort of grow a bit -- hopefully!
Koslow: [Laughs] It's true. The first few years are one thing, but I mean, I have played this character a long time, and to a degree, there is melding, I suppose, of you and your character. Especially because we work so fast and we do so many scripts a week, so a lot of it is shorthand. So, you do end up using a lot of yourself in a role like this.
Soap Central: The DAYS writer who created the role of Kate, Sheri Anderson, went on Twitter to celebrate the fact that Kate has been on the canvas since 1993, and she, of course, mentioned Deborah Adair -- whom she created the role for -- but she also mentioned you and said she really loved the flavor and texture you have brought to the role. Did you see that tweet?
Koslow: No, I didn't, but how nice! It is kind of unique, as you mentioned: she created the character, and it's exciting to meet your creator. I'm sure the character has evolved and changed, the same way a person would develop and change over the years. It's the same thing. And the beauty of playing a character like this is that it's real time and real life in a way, where you're changing and your character is changing. For an actor, it's an extraordinary experience. It's an unusual experience to be able to play a character for that long.
Soap Central: What do you think when you see photos or video clips of yourself from the early days on the show?
Koslow: I love her clothes! [Laughs] It was great, because we had a huge budget back then, so she had great clothes. We still do have great clothes, but it's not quite the same. But I look at [the time] fondly. We were always a very glamorous and beautiful-looking show, so everyone always looks good, and even when the style is from twenty years ago, our costume designer made it in a way that a lot of the pieces I could probably still wear today and work it in. Another thing I notice is that my hair was very dark! And I made that choice when I came on because Deborah had dark hair, too. And I cut it short, as well, to make it easier for the fans and the audience, so I could meld a little bit better with the original interpretation, physically. But then Kate did change it... and I would also change her hair depending on whether Kate was in love or not.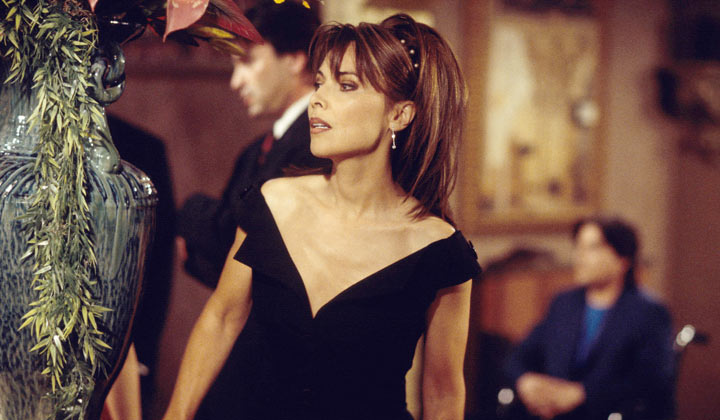 Soap Central: You've always been very in tune with the way the character looks in conjunction with her emotions and what she's feeling, and I really admire that. It's an interesting detail that's subtle but definitely noticeable for the fans that pay attention and love Kate.
Koslow: I think that's definitely something else that comes out of theater, where my training was from. All of those aspects are related; her clothes, her makeup, her hair, all of that is reflective of her and what is going on with her. It's another one of the pleasures of playing a role like this, that you do get to experiment and do that. And I love it when the audience picks up on it. It's really rewarding. During the time Kate was with Roman [Josh Taylor], she was in love and they got married, and it was a lighter time for her. She buried a lot of the darkness and the things that drive her sometimes to go to the places she shouldn't. And during the time with Roman, my hair was blonder and there was a lightness about her. But after he was murdered, everything changed. I remember I darkened my hair -- it became almost black -- and she definitely changed the way she dressed and even the way she walked, in a way. She was almost kind of a loner for a while. If you follow the story and follow the look, you can sort of start to put two and two together.
Soap Central: So are we going to start seeing a "darkening" of Kate now that André [Thaao Penghlis] has been murdered and she is once again alone?
Koslow: Well, that's true and actually, yes! [Laughs] I can't tell you too much about it, but I am changing her look. It's like a natural evolution though. I guess before, I used to think about it a lot. But now, it just sort of occurs. It sounds odd, but you're so close to the character, so when something happens, you just know, "Well, I know I'm not going to be wearing that anymore." It just happens, based on the way you're feeling. And I'm feeling it, you know? You have to trust it and go with your gut.
Soap Central: Speaking of André's death, was it really hard for you to say goodbye to Thaao?
Koslow: Yes, for sure. It's always difficult when you've had a close working relationship like we did. We are friends in real life, so of course I love working with him. It was shocking. In fact, [his exit] was just as shocking to us as it was to the audience. So, I have my fingers crossed there will be a miracle!
Soap Central: It is Days of our Lives we're talking about, so it's always a possibility!
Koslow: It's a very magical world here in Salem! I like it. It's a little bit of an altered reality, which allows you to do more, so it's good.
Soap Central: Kate has been in romances with so many of the big boys of Salem. She's been with Victor, Roman, John [Drake Hogestyn], Stefano, Daniel [Shawn Christian], Ian McAllister [Ian Buchanan], Rafe [Galen Gering], the list goes on. Which of the characters do you think was the best fit for her?
Koslow: I think it's one you actually didn't mention, which was Eduardo [A. Martinez]. I know it was very short lived, but I think that from the moment they met, they instinctually felt a kinship. It wasn't about what their pasts were or anything like that. It was just a kinship, and they got each other. Kind of like a soul mate kind of thing, or a spirit animal.
Soap Central: Would you say Kate's approach to love and romance is a lot different than when you first started on the show?
Koslow: Oh, definitely. Definitely. She's been burned. A lot. And I think a lot of her relationships, even with Victor and Nicholas [Alamain, Victor Webster] and all of that, when you think of her in the beginning, she was actually a very loyal person. She really was in love with Victor, and when Nicholas came to town, he was this gorgeous young thing, but she was like, "No!" Even as tempted as she was to do it. So, she started out very loyal, but over the years, she was really betrayed. When she gives her heart, she really gives her heart, and it usually ends up being stomped on in one way or another. And I think after the Roman thing and the John Black thing, she started to really pull back from giving her heart. She might get involved with someone or have a sexual relationship with someone, and it might seem like the real thing, but it's not really the real thing. I mean, look at what happened with Daniel. She did care about him. She definitely did care about him, and he was cheating on her. So, it was pretty rough. And then I think she started to choose more intellectually rather than emotionally, like with Clyde [James Read]. I think she thought, "He's a bad guy, but man, we can take over the world together!" So, this thing with Eduardo, from your question before, I think she really let down her guard with him. It was the real thing, and it hadn't been that way in a long time.
Soap Central: Okay, it makes sense now. When you first said Eduardo, I was surprised, to be honest.
Koslow: Their story was shorter, but it was really an emotional one.
Soap Central: I find it so fun that both Vivian and Billie are back on the canvas because they're two major characters from your early days on the show. Has having them back brought you lots of memories from that time?
Koslow: Oh, my gosh, you're right! I hadn't thought about it that way, but you're right. Lisa [Rinna] wasn't on the show when I started, but Louise Sorel was, and when Billie came back, it was Krista Allen in the role. But funny enough, I did my screen test for the role of Kate with Louise Sorel. She was always such a supportive person to me, so lovely and so elegant. I loved working with her. And when she came back, it was great. And you're right -- what a great way to celebrate my twenty-second year! But, yes, her return has reminded me of all of our early scenes, for sure. We used to have just a crazy time together. We had a lot of crazy, crazy material. I guess you've seen the scene in the crypt with the coffin and everything, and that definitely brought it all back, because that's the kind of stuff we used to be doing. I love working with her.
Soap Central: I love that you screen tested with her. You don't hear about that very often; they usually test a male/female romantic pairing, which says a lot about the importance of Vivian and Kate's relationship, as hairy as it may be.
Koslow: It's funny you say that, because it is probably unusual that we did the test together. And I actually ended up doing a second test, and that test was with John Aniston. And I think it was because they wanted to see what went on there, if there was chemistry. But it is interesting that the important dynamic was between the two women.
Soap Central: It's super unusual, and I love it. And you guys have given us so many fun scenes over the years.
Koslow: Oh, it's been really fantastic. Seeing her in the makeup room has been so wonderful and getting to hug her and hearing that magnificent voice. I love her voice; she could say anything, and it's just fabulous. So, it was really wonderful to have the chance to work with her again.
Soap Central: Many of the DAYS actors have talked about head writer Ron Carlivati's take on the show and how he does a great job of pulling the history of the show into modern times. What do you think about the way he is writing for Kate? Do you think he's doing her and her history justice?
Koslow: I'm very happy. I'm really loving it, because that is exactly what he seems to do: he really minds the history, but then he flips it. So, he's using our history, our characters' histories and events, but then flipping them and modernizing it and also taking into account that these characters have changed and they have developed and matured. Whatever has happened to them, he's using that, too. It's a good recipe, and I will say, right now, I've had some of the best story I've had in years and years and years. So, I must say I'm very happy. Very happy about it.
Soap Central: Do you have any wishes for Kate in the year ahead, or even more long-term?
Koslow: I really want to see her achieve her goal of being a matriarch of a family. She really wants that. She wants power. I feel like she hits the glass ceiling a lot, and she almost gets there and then she doesn't. The man comes in and takes over. But she wants that -- she wants to be the matriarch and have control of her family and lead them where she thinks they should go and where they deserve to go. So, I do hope she gets that. I'd also love her to have a relationship, the equal partner thing. So, we'll see.
Soap Central: With Ron running the show, it's a possibility, because something he's known for is writing very strong, powerful female characters.
Koslow: Yeah, I think so too. And she has that -- she definitely is a strong and powerful woman. There have just been so many times where she's been cut off at the knees! But I think she still wants to fulfill what she thinks is her destiny and be in the position where she does get to call the shots and really to do what Stefano did. I feel like she really trained with him over the years. And she was ready to step into that position, and interestingly enough, she and André had the same idea.
Soap Central: Have you always known Kate will continue to be on DAYS, despite all the years that have passed?
Koslow: I imagine it's a cool thing that when you create a character, that character lasts and is still there. That's a testimony to the depth of the character that Sheri wrote, the dimensions. That's a thing that I personally have always loved about the character: there are all possibilities for her. She's both a good character and a bad one, but not a totally evil person who can't be redeemed. She's really a complex woman, a complicated woman. There's a lot going on there, so there's a lot you can do with her. Certainly, that's how it's been the last twenty-two years -- and I look forward to twenty-two more!
What do you think about our interview with Lauren Koslow? What are some of your favorite Kate-related memories? What is your wish for the character in the year ahead? We want to hear from you -- and there are many ways you can share your thoughts.