For about a month, Days of our Lives fans have known that Jen Lilley's (Theresa Donovan) return to the soap would be short-lived. The fan fave revealed that a communication error led DAYS to believe that she would be available longer than she actually was.
That was apparently not a problem for then-co-executive producer Albert Alaar, who told Lilley that the show would simply recast the role of Theresa. In fact, Lilley revealed that she was on set when she learned that she was being replaced.
In an interview with Soaps.com about her return, Lilley politely declined to name the actress that would be taking over her role, and DAYS did not respond to requests asking for details on how the show planned to handle the recast.
That's not entirely unusual. Soaps, like many TV series, are very protective of big casting news and story twists. Many show publicists send information to the press with embargo dates -- meaning that the information cannot be reported before a certain date and time. In DAYS' own correspondence, the show warns that "Those who fail to follow these provisions will be dropped" from receiving all future show press releases.
So, it came as quite the surprise when the identity of the show's new Theresa was revealed before the actress even showed up on-screen.
The end credits of the October 2 episode showed that Emily O'Brien would taking over the role that Lilley vacated on September 22. If the name sounds familiar, it should! O'Brien also currently plays the role Gwen von Leuschner. How is one actress going to play two characters that up until now did not look anything alike?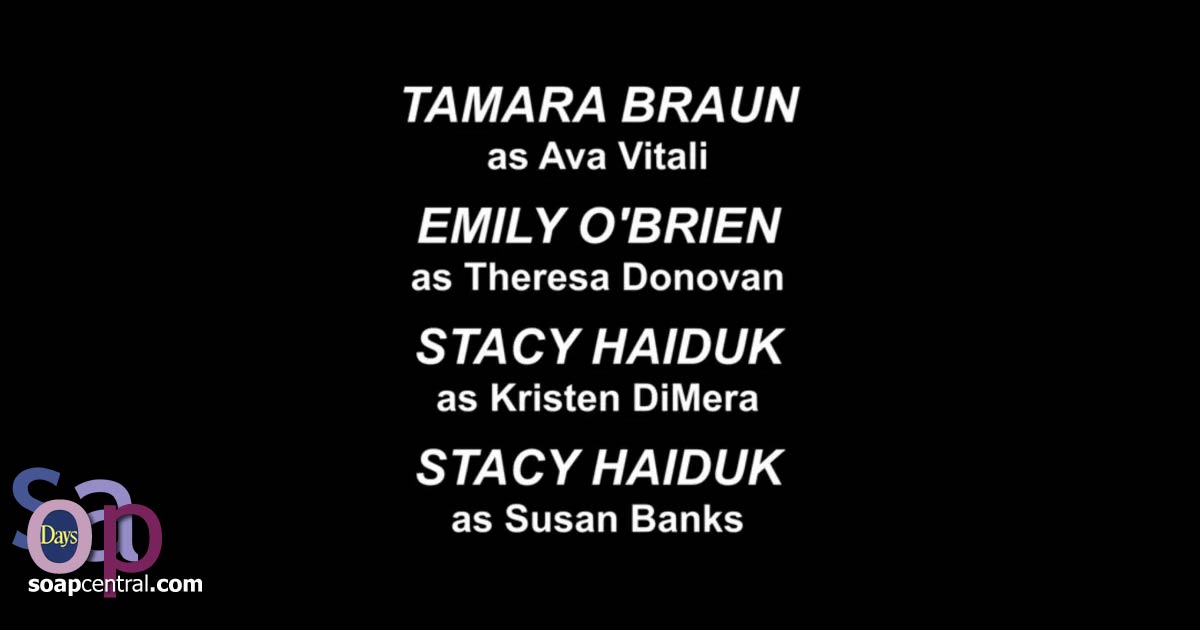 "Oh yeah, we're just gonna put her in a wig," Lilley said someone in production told her. "Top to bottom, it was just not handled the right way."
Still, Lilley insisted that she harbors no resentment toward her co-star.
It should, of course, be noted that soaps have routinely made very, um, soapy decisions when it comes to casting. ABC's General Hospital had to recast three roles at once due to a lawsuit over its use of One Life to Live characters. Days of our Lives has played a game of tennis with the role of Abigail Deveraux, as actress Kate Mansi and Marci Miller swapped back and forth in the part. Kristen DiMera has been played by Eileen Davidson on the DAYS spinoff Beyond Salem while actress Stacy Haiduk was playing Kristen on the mothership series. More recently, Robert Scott Wilson joined the show as Alex Kiriakis mere weeks after he was written out as Ben Weston. Still, this is the first time in recent memory, if ever, that a show simply opted to pick a performer already on the show to simultaneously take over another role already on the show.
Jen Lilley assumed the role of Theresa in 2013 and remained with the show through 2016. She returned for a few months in the early summer of 2018. Prior to joining DAYS, Lilley briefly filled in for Kirsten Storms in the role of General Hospital's Maxie Jones from 2011 to 2012.
Emily O'Brien made her Days of our Lives debut as Gwen on June 5, 2020. Prior to joining the then-NBC soap, O'Brien spent five years as Jana Hawkes on The Young and the Restless.
What do you think of the show's decision to recast Theresa? And what are your thoughts on Emily O'Brien pulling double duty? We want to hear from you -- so drop your comments in the Comments section below, tweet about it on Twitter, share it on Facebook, or chat about it on our Message Boards.