Days of our Lives Recaps: The week of December 19, 2005 on DAYS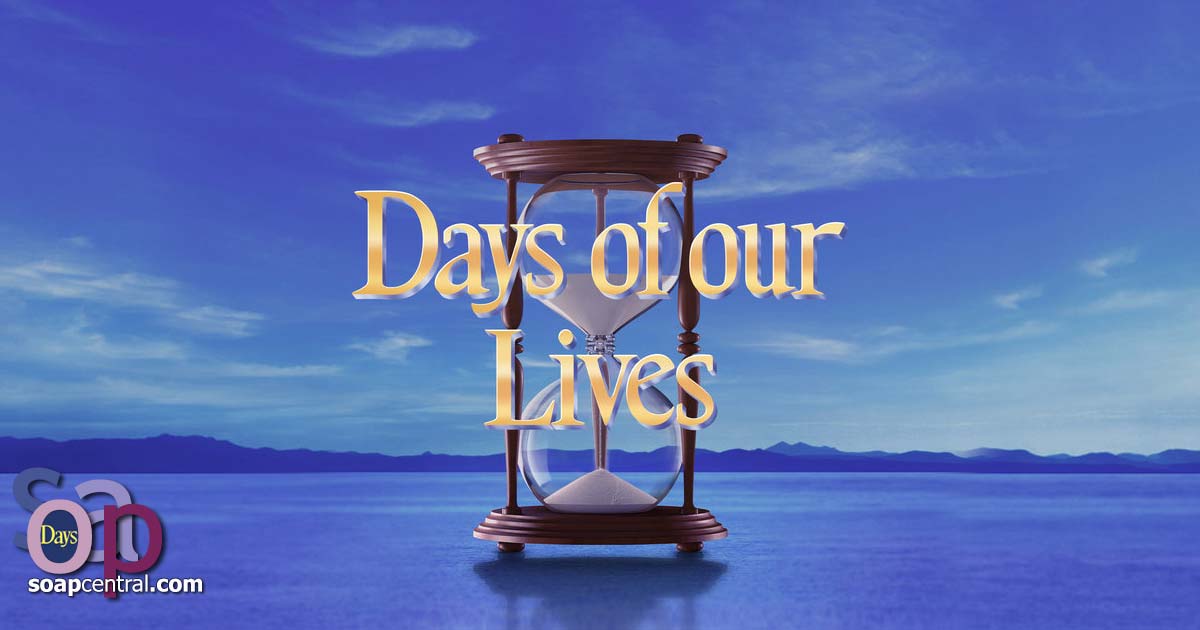 Monday, December 19, 2005
Bo and Hope talk about all the tragedies affecting their families and friends this holiday season. They're committed to helping everyone they can and thank God their immediate family appears to have been spared. Little do they know Chelsea is unconscious, bleeding and trapped in her wrecked car. She is rushed to the hospital and Bo and Hope are called. When they arrive at the trauma center, they overhear two nurses talking about a young girl killed in a car crash. Bo is horrified are they talking about Chelsea?
Shawn and Mimi come home from the hospital. Mimi insists Shawn rest because he over-donated blood to Claire. Mimi is still worried and curious from overhearing the nurses say that Shawn's blood type matched Claire's and Philip's didn't. She searches the internet for answers. Bonnie arrives and freaks when she sees what Mimi's doing. She convinces Mimi that Shawn's blood type matching and Philip's not matching Claire's isn't that uncommon. Mimi accepts it. Shawn prays for the baby and has a sweet dream about the baby recovering. He makes Mimi promise that if they wind up together, they'll adopt a lot of babies. They kiss under the mistletoe as Bonnie secretly shuts down the computer.
Carrie, Lucas, Sami and Austin attend the Rolling Stones concert and have some near misses. Austin thinks he sees Carrie on the TV screen and goes backstage to check. Austin looks out into the audience as Carrie kisses Lucas. Has Austin seen them?
Tuesday, December 20, 2005
Sami with Austin and Carrie with Lucas go to the Rolling Stones concert. They nearly run into each other on several occasions. Carrie finally sees Austin and he thinks he sees her, however Sami is quick to tell him that (lucky for her) Carrie is still in Israel with Mike.
Bo and Hope rush to the hospital. It looks like Chelsea was killed in the car accident but there's a mix up and she's really alive. Max is there to be supportive while Chelsea apologizes to Bo for her reckless driving. Her sorrow turns to rage when she must pay the price for her careless behavior and Bo won't get her out of her jam.
Jennifer realizes she has to say good-bye to Jack and Frankie. In order for her to stand on her own two feet she must stand alone. Sadly, Frankie realizes he can't argue and prepares to leave Salem.
Wednesday, December 21, 2005
A charity Santa's bell annoys Sami. He offers to take a break if she donates. She has two bills: $1 and $100. Lucas mocks her, and they argue about his concert date. Livid, she shoves the wrong bill in Santa's basket. She tries to retrieve it, but her hand gets stuck, and Lucas and Santa catch her. Onlookers laugh as Santa berates Sami. When he goes to get the police, she extricates her hand, but only a $1 bill. It'll have to do.
Clad in his underclothes, Austin finds Nicole face-down on the couch. Jealous about the concert, she raided the mini bar. Before that, however, she got them the High Style deal. The buyout contract awaits Austin's signature. He tells her he saw Carrie on the Jumbotron.
Carrie ignores the bank's late notices. She expects the pending orders to pay off their debt. She informs Becky she's spending Christmas alone. Becky suggests Carries call Austin so she can enjoy the holiday with him. She's still not ready to face Salemites. Becky says Lucas is an alternative. She teases Carrie and Lucas brings her flowers.
The Java Cafe plays "Deck the Halls." Abby hugs Josh, who offers his sympathies about her dad. "Angels We Have Heard on High." The earnest lad wants to ditch work for her. "God Rest Ye Merry Gentlemen." Abby doesn't want Josh to risk his job. With a kiss, he says he's there if she needs him.
Traffic court ticked off Chelsea. She has to take driving lessons to reinstate her license. She yells at Max when he defends Bo and offers solutions for her transportation problems. Angry that Bo didn't get her out of it, she refuses to do community service. She blames Bo's refusal on disapproving Hope. They don't treat her as well as Shawn! She recounts his wedding motorcycle crash.
Bo and Hope count their Chelsea blessing as they arrive for Jack's latest memorial service. Doug and Julie join them. Abe recalls Jack's concern for his family. Lexie tells him about Jack's plans for his wife and Frankie. Mickey, Maggie, and Jack greet Frankie at the Deverauxs'. Jennifer asks Frankie to ride to the church with her on his way out of town. Frankie tells Mickey he's leaving. Mickey is disappointed - he had hoped they'd be law partners. Jennifer sits next to and hugs Alice. She mentions to Abby that Vern took Jo to the rectory. Julie recites the 23rd Psalm. Bo steps out to call Chelsea. Abe tells of Jack's bravery and familial love. "Amazing Grace" plays. Alice promises Jennifer will be okay. Bo runs into Max and Chelsea. He admits he knew about her sentence. Chelsea wants nothing to do with him; he can't be a father to her. She declares she's there for Abby and enters St. Luke's. Hope assures Bo Chelsea didn't mean it. She hopes a family Christmas will change the girl's heart. Lexie tells Frankie Jack chose the right man. Crying softly, Jennifer caresses a portrait of Jack.
Thursday, December 22, 2005
After Jack's memorial service, Frankie prepares to leave town, as Jennifer requested. Frankie goes back to the house to collect his things. Bo is there to help him. He tries to change Frankie's mind. Frankie confides that he still loves Jennifer. He'd gladly do as Jack asked him, and stay here with Jennifer and her children, but he can't go against Jennifer's wishes. Bo asks if he really loves her, how can he leave? Frankie is torn.
Hope thinks Jennifer is making a big mistake. She presses Jennifer to change course and ask Frankie to stay. Jennifer gets angry and frustrated. Hope thinks Jennifer needs Frankie to stay with her€¦ as a friend. True, Jack was the great love of her life€¦ but why should Jennifer deny herself comfort and support from Frankie? Emotional Jennifer admits she can't be with him while she is grieving for Jack. She has to let him go. Frankie and Jennifer have a painful parting. Though we see it kills them both, Frankie leaves Jennifer.
Hope and Bo take Zack to see Santa and enjoy their blessings.
Over Nicole's objections, Austin calls the CEO of High Style to tell her that she's the target of a hostile takeover. A very close call, as it looks like Carrie has picked up the phone call from Austin. But Becky, her assistant, accidentally cuts off the call. Austin calls back, and distracted Becky (not really paying attention) takes down a message. Unfortunately, the cleaning woman disposes of it before Carrie sees it. Finally, Austin takes Nicole's advice. He signs the papers to take over High Style. Unaware that Austin is about to destroy her company, Carrie makes a huge decision. She's going home to Salem for the holidays and to tell Lucas they can only be friends and to tell Austin she loves him!
John tells Kate he won't let Alex get closer to Marlena. His ISA investigation pays off when Dr. Lois Banks, a classmate from Marlena's medical school days, says she can testify that Alex was an abusive husband. Marlena lived in fear of him. John is galvanized. He finally has the evidence he needs to get Marlena back!
Friday, December 23, 2005
Lucas is encouraged when Carrie asks if she can get a ride with him back to L.A. She spoils the moment by revealing her desire to talk with Austin to see if they can be together. As Hope and Bo bring Zack for a visit, Abby complains to Jennifer about sending Frankie away, just when they needed him most. Bo assures Abby that Chelsea only suffered a few scratches after her car accident. When Hope warns it's time to go to Alice's for the tree-trimming party, Jennifer stuns them all by announcing that they're not going this year. Hope convinces her to attend for family's sake. Upset to find Alex and Marlena gone, a desperate John calls the ISA for help finding them. Roman arrives and while Kate heads to the hospital to check on Claire, Roman and John leave for Alex's cabin. At the hospital Lexie explains to Belle and Philip that Claire needs a transplant or she'll die. She goes on to claim that she's a high priority on the donor list. Philip tells Mimi and Shawn who offers to get a website going to find donors. Back in town Austin and Sami stop by the ICU to learn the latest. Lucas and Carrie stop by the hospital for the annual reading of the Christmas story. He finds Kate there and admits that the woman he's interested in has her heart set on another guy but fails to admit it's Austin. Dressed as Santa, Carrie spots Sami and hides. Later, as Shawn handles the reading for the kids, Lucas mistakes Sami for Carrie and kisses her. Meanwhile, Austin is shocked to find Carrie out on the terrace. At the annual tree trimming Julie shows Bo the ornament for Chelsea. As Abby comforts her mother, someone watches the scene from outside the window.