It was a first of its kind in daytime television --- Internet users were allowed to directly influence a major storyline on a soap opera. Fans of Days of our Lives have been allowed the rare opportunity to choose who they wanted to see the writers establish as the father of Hope's child.
NBC established a special Internet site where fans could log on and cast their vote for who they wanted to see as the father of Hope's baby. The choices were limited by previous storyline development to just two choices --- so there was no chance for any outside choices or write-in candidates. Though at press time the final results of the voting were not available, the majority of fans did vote for John over Stefano.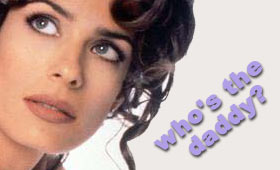 Though the viewers ultimately selected who had fathered Hope's baby, critics of the Internet vote claim that the poll was nothing more than a gimmick. After all, after the selection had been made, DAYS viewers no longer have any say in the storyline itself. From this point on, viewers are helpless in determine where the storyline leads. Also, is the fan decision something that the writers have to honor? What if, say, in a few months the ratings start to sag. Is it possible that the writers could veto the fans' decision and turn the storyline upside-down?
None of the other major networks have jumped on the interactive bandwagon to the same degree as NBC. ABC's All My Children was the first daytime program to actually feature viewer picked material. Through a series of craftily worked promotions, viewers were able to pick which wedding dress a character wore to her wedding. Obviously, this type of tie-in didn't require the same amount of work for the writers.
Only time will tell whether or not these types of interactive storylines draw in more viewers. Interactive movies have been tested in movie theatres for several years, but they've yet to really catch on. Daytime television, however, continues to push the envelope and offer inventive ways to make viewers enjoy their soap watching experiences even more.