A representative for Melissa Reeves has confirmed that the wildly popular actress will rejoin Days of our Lives. Reeves, who played Jennifer Horton Deveraux from 1985 through 1995, will return to the NBC soap after a five-year absence.
Since leaving the show, Reeves has kept herself busy. Reeves starred in the tele-movie Half a Dozen Babies with real-life husband Scott Reeves (ex-Jake Hogansen; currently Ryan McNeil, The Young and the Restless' Ryan). TV Guide reports that Reeves had auditioned for other daytime roles, but the return to Days of our Lives will be her first daytime project since leaving the show.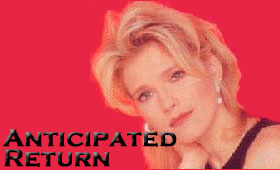 An Eatontown, New Jersey native, Reeves got her start in daytime as Jade Perkins on Santa Barbara. She has also appeared on Another World.
In somewhat related news, J. Eddie Peck, the man who played Howard "Hawk" Hawkins, a con man who swindled Jennifer and Jack out of their fortune, has resurfaced on daytime television as All My Children's Jake Martin.