Through the magic of modern technology, Tom Horton will be returning to Salem for the holidays.
The man that so many people equate with Days of our Lives, MacDonald Carey, will appear in scenes with Frances Reid (Alice) on the December 23rd holiday episode.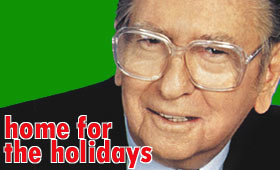 Executive producer Ken Corday explains that the same technology that allowed Natalie Cole to sing "Unforgettable" with her late father, Nat "King" Cole, has been employed to bring Carey back to Days of our Lives. Carey passed away in 1995.
According to Corday, executives sifted through old episodes to find material that could be digitally inserted into modern day scenes.
The scenes will be a special holiday treat for viewers who watched the actor for so many years on Days of our Lives. For the newer fans, it will be a chance to see Carey in something other than a flashback installment.
Following are the results of a DAYS Online WT? On the Spot poll conducted the week of December 11, 2000.


What do you think of the decision to electronically bring Tom back to Salem?

Choice
Votes
Approximate %
This is very exciting and I am very much looking forward...
189
57%
I don't like the idea because these sort of things...
78
24%
I've never actually seen Tom Horton, so this is new...
33
10%
I think that the digital resurrections have been overdone...
20
6%
Other
10
3%
Total Votes
330