For several months, a serial killer has been stalking the residents of Salem. Abe Carver was the first victim felled by the killer... and nine more townspeople will meet with an untimely demise before the killer is caught. But hold on tight Days of our Lives fans - the identity of the killer will soon be revealed.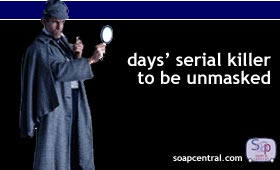 Head writer James E Reilly recently previewed upcoming storyline twists during an interview with TV Guide. In the interview, Reilly revealed that he serial killer's identity would be revealed in January.
According to Reilly, following an attack by a tiger at the local circus, the killer will sneak into Tony's hospital room and poison his intravenous line. Tony will be the killer's seventh victim. But he won't be the last.
Three additional murders will take place by March. Two of the deaths are supposed to take place in February and one will occur in March.
It remains to be seen if network executives will take extra measures to keep the killer's identity under wraps. The gap between taping of an episode and that episode's actual airdate facilitates leaks. Some soaps have taken drastic steps to keep certain storyline twists a secret. Recently, DAYS's sister soap, Passions, waited until two days before an episode was set to air before taping scenes that revealed a kidnappers secret identity. CBS's The Bold and the Beautiful kept an actress hidden in a secret dressing room and didn't tell anyone that she was there in order to keep her return a secret.
Due to the holiday, a spokesperson for Days of our Lives was unavailable for comment.