Heather Lauren Olson (Jan Spears) has been replaced in the role of Jan Spears on NBC's Days of our Lives. Olson's last appearance has already aired. The role will be recast.
There are varied accounts of why the actress was let go, however, an official statement by NBC hints that the decision was forced upon the network.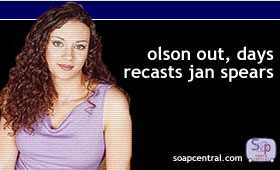 "It was a production choice to recast this role," a DAYS spokesperson state.
An insider tells Soap Central that Olson's work ethic was the topic of behind-the-scenes chatter - even among the actress' co-stars. The insider also said that Olson called off sick on a tape day and had to be replaced for that day's scenes. The show then opted to make the recast permanent.
Olsen first joined Days of our Lives in 1999 and remained with the show through 2002. Following a break, Olson was brought back to the show in November 2003. However, the character of Jan Spears has been on some DAYS' fans least favorite list for quite some time. Jan was named DAYS' Least Favorite Character in 2002's Soap Central Awards and is again a contender for the dubious distinction this year.
The difficult task of taking over the role of Jan falls on soap newcomer Heather Lindell. Lindell, a recent graduate of UCLA, learned that she had landed the role of Jan on the same day she graduated from college.
Olson's final appearance on DAYS was April 5. Lindell first airs on April 13.