Tanya Boyd (Celeste Perrault) will return to Days of our Lives later this month, marking her first appearance in Salem in over six months.
In her first on-screen scene, Celeste will square off with Tek over - what else? - Lexie. Boyd's alter ego is Lexie's mother through an affair with Stefano DiMera. In recent months some fans have speculated that Stefano might not be as dead as everyone thinks he is.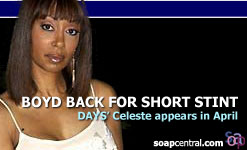 DAYS's best-known Stefano, Joseph Mascolo, is currently on-contract with CBS's The Bold and the Beautiful. A spokesperson for B&B recently denied that Mascolo was leaving the show.
From 1994 to 1999, Boyd was a contract player on Days of our Lives. But since 1999, the actress has appeared only on a recurring basis. She received heavy screen time during the Salem Stalker storyline in 2004.
Boyd first appears on March 30th. Her current stint is expected to last about one month.