As Days of our Lives prepares for some dramatic behind-the-scenes changes, the show is about to see a rather dramatic shakeup on-screen. Ending months of speculation about her future with the NBC soap, soapcentral.com has learned that Melissa Reeves (Jennifer Deveraux) will exit DAYS later this year.
The reasons for Reeves' decision to leave are said to be many, however, at least one reason has been making the rounds for some months. Reeves' has reportedly been very unhappy with her on-screen alter ego's storyline. In an odd bit of timing, Reeves' exit will coincide with the installation of a new head writer for Days of our Lives.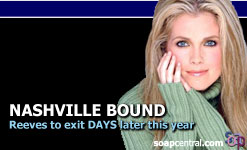 Questionable story aside, Reeves has also expressed a desire to be closer to her family. Upon exiting DAYS, Reeves will move to Nashville to be closer to her husband, Scott Reeves (ex-Ryan McNeil, The Young and the Restless) and their two children, Emily, 13, and Larry, 8. With Aaron Benward, Scott Reeves is one half on the country duo Blue Country. There have been rumblings that Reeves could already have a job lined-up in Nashville hosting a program on a country music cable channel.
For those fans wondering if Reeves' exit will negatively impact her on-screen husband, Matthew Ashford (Jack Deveraux), there is some good news: Ashford recently signed a new contract with the show. So while Jack may have to move on without Jennifer, Ashford will not have to exit the show with Reeves.
There was no comment from NBC as it is not network policy to comment on contracts.
Reeves exits the DAYS canvas on September 21, 2006