As Days of our Lives continues to prune its cast of "non-essential" characters in order to trim its budget, one star has apparently decided to take the initiative to leave on her own accord.
In a posting on her official web site, Farah Fath (Mimi Lockhart) has announced that she has asked the network to let her out of her contract early. There is, however, good news for fans - her exit is anything but a done deal at this point.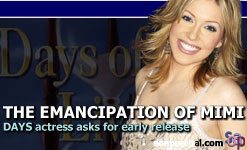 "I won't divulge specific reasons why, but I asked to be let out of my contract a year early," Fath said. "DAYS complied, so that means they have me until February. Whether or not they use me until February is up to them."
Fath is the second actress to play the role of Mimi on Days of our Lives. An actress by the name of Doren Fein held down the role briefly in 1999 on a recurring basis. When DAYS execs decided that Mimi would become more of a central character, the decision was made to recast the role. Fath joined the cast later that same year.
Despite asking to be let out of her contract, Fath asserts that she still very much enjoys her job at DAYS. Some insiders have whispered that the show's current budget slashing may have required Fath to take a pay cut. Even more confusing is a statement by Fath that she ultimately may not end up leaving Days of our Lives.
"Just because I asked for an 'early out' doesn't mean I am unhappy at work," Fath states. "It's quite the opposite actually. I absolutely LOVE my job and I LOVE playing Mimi. I'm just weighing out my options as far as my career goes at this point in my life. I really have no idea what's going to happen with me. And sometimes, that's just more exciting."
Whatever the ultimate result, Fath insists that she was not fired.
"Goodness gracious," Fath sighed. "I really didn't want to have to 'set the record straight' about any of this, but I'm getting annoyed that people think I was fired."
Fath's exit date is very much up in the air. According to the actress, she is obligated to remain with the show for "one more cycle," which is a period of 13 weeks. NBC has the option to keep Fath aboard until February 2007.
A spokesperson reminds Soap Central that the network does not comment on contracts.