Despite an earlier statement to the contrary, Joseph Mascolo (ex-Stefano DiMera) appears destined to return to Days of our Lives later this year. With an official announcement from NBC still pending, it would seem that the supposedly-dead Phoenix has once again found a way to rise from the ashes.
A long-time member of the Days of our Lives family, Mascolo made news in 2001 when, after departing DAYS amid a contract dispute, the actor joined the cast of rival CBS soap, The Bold and the Beautiful. The actor immediately dismissed talk of Stefano being recast with an in-character "bah humbug."
"My contract is up in May and I tried to negotiate in good faith," Mascolo states. "Usually, one expects some give and take but the powers that be are adamant. They now feel that the character of Stefano should take a rest - as if Stefano ever rests."
In 2002, Days of our Lives' writing team put to rest talk that the character would soon be returning by killing Stefano. Of course, DAYS fans knew that the door would remain open for the character's resurrection since this was not the first time that Stefano had been "killed."
Earlier this year, Soap Central first reported that Mascolo would be leaving The Bold and the Beautiful at the end of his contract. Unlike his exit from DAYS, money was reportedly not an issue in the actor's decision to bolt. Mascolo had reportedly been unhappy with his character's story - or lack thereof - and decided that he would leave until the show could come up with a suitable storyline.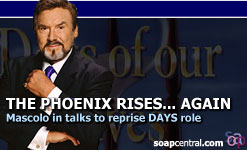 Days of our Lives fans first got an inkling that Stefano might be returning soon when a mysterious "gloved hand" started appearing around Salem earlier this year. Many fans immediately jumped to the conclusion that the mysterious hand belonged to Stefano - and they may have been right. However, as the storyline unfolded on-screen, some behind-the-scenes changes caused a rapid change in the identity of the mystery person. In May, Days of our Lives head writer James E. Reilly was ousted from the show amid a ratings slump. It is believed that Reilly might have had plans to reveal Stefano as the "gloved hand." However, Hogan Sheffer took over as head writer last month, Sheffer expressed an interest in wrapping up the storyline because it had, in his opinion, dragged on too long.
Mascolo previously appeared on Days of our Lives from 1982 to 1985. He returned briefly in 1988 before making a permanent return in 1993. Mascolo's most recent appearance was in 2001.
NBC declined to comment for this article