As reported by Soap Central in July, Farah Fath (Mimi Lockhart) shocked fans by announcing that she had asked to be let out of her DAYS contract early in order to pursue other opportunities. Now, as the countdown to Fath's farewell moves into its final hours, Fath appears to be hedging her bets in the event that those other opportunities do not pan out. Indeed Fath's time away from DAYS could very well be measured in days.
Upon leaving Days of our Lives, Fath plans to audition for pilot season, the time when potential fall shows are filmed and pitched to the various television networks. With Fath leaving, Days of our Lives' writers have decided that Mimi will be off-screen for about a month following Fath's exit. That would allow the show the opportunity to audition replacement actresses.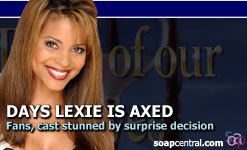 "She is going to be auditioning during pilot season, and she's going to see how things go," read a statement on Fath's official web site. "If she decides to go back, then obviously, she will be playing Mimi again. If not, [DAYS execs] are going to recast [Mimi]."
When Fath first made the announcement that she was leaving DAYS, the young actress was dogged by rumors that she had been fired. Fath issued an immediate statement denying that she was fired. She went on to say that it was her decision to leave the show and spread her wings elsewhere.
"I really didn't want to have to 'set the record straight' about any of this, but I'm getting annoyed that people think I was fired," Fath said in a statement. "I asked for an 'early out' [and] I'm just weighing out my options as far as my career goes at this point in my life. I really have no idea what's going to happen with me. And sometimes, that's just more exciting."
Fath's excitement begins in early 2007.
"She has about six more weeks left on the show," Fath's official web site reported, indicating that Fath would be taping through the end of December and possibly into January 2007.