In a casting move that has stunned the cast of Days of our Lives, long-time veteran and fan favorite Renee Jones (Lexie Carver) has been let go. The dismissal is particularly surprising as it comes as Lexie's family - the DiMeras - is getting increased air time on the NBC soap.
"Renee is still taping here at DAYS," a show spokesperson stated. "Unfortunately, I do not have any further information at this time."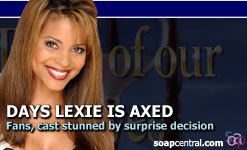 While Jones is easily the most recognizable actress to have played the role of Alexandra "Lexie" Carver, she is not the only actress to have filled the role. Sheila Wills created the role of Lexie in 1988. That same year, actress Cyndi James Gossette took over. In 1989, 1990 and 1992 Angelique Francis played Lexie. Jones assumed the role in February 1993.
Tackling the role of Lexie was not Jones' first DAYS experience. In the mid-1980s, Jones appeared as Nikki Wade, a secretary at the Salem Police Department. Ironically, Nikki had a crush on the man that Lexie would eventually marry: Abe Carver.
Jones' ouster is attributed to the show's need to trim its budget. Coupled with the money crunch is the fact that DAYS has a new head writer. Typically new head writers will write out characters that do not fit into their vision for the show. As new scribe Hogan Sheffer's material now hits the screen, it would appear that the Emmy-winning writer is starting to put his personal stamp on the show.
Jones will last air on January 22.