Drake Hogestyn (John Black) has had another brush with demonic possession. This time, however, there was no supernatural storyline involved and the terror was definitely real. As the New Year readied to roll in, an Oregon man showed up at Hogestyn's home and caused an incredible stir.
Carl Raymond Cheney has pleaded no contest to misdemeanor charges of battery and entering private property without permission after storming the Malibu estate of the Days of our Lives star. A judge has also granted a restraining order against Cheney.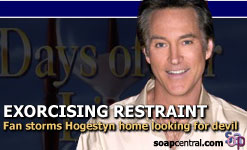 Hogestyn testified that he was on a ladder painting his house on New Year's Eve when Cheney ran at his daughter screaming, "Where is he? I will cast him out!"
Hogestyn added that Cheney was "calling me by my stage name... recalling past storylines, especially the demonic possession of several years past. But more important, he thought I was dead, because the show that aired on Friday 12.29.06 left my character John Black shot and presumed dead."
Court documents state that Cheney, who was clutching a Bible, was trying to exorcise the devil from Hogestyn. During the invasion, Cheney is also said to have grabbed Hogestyn's wife and pushed her backwards.
"This sick person Carl Raymond Cheney believed that Satan was in me and that he was the Christ," Hogestyn stated. "I grabbed him by the hair, spun him around, delivered a right cross to the chin that sent him down the stair."


The incident seems to have been brought on by a storyline of Marlena's possession by the devil. The storyline aired in 1995.
Cheney was released on his own recognizance and ordered to stay with his father. Sentencing is scheduled for February 6th.