How do you feel about Matthew Ashford's return to DAYS?

I'm elated. It's great that Ashford will be returning as DAYS' Jack.
90%
I'm happy Jack will be back, but Jennifer needs to return too.
7%
Eh, I'm not really a Jack fan -- so I could have done without his return.
3%
This in and out stuff is getting silly. Jack needs to either stay or go.
0%
I have no opinion about Ashford's return at this time.
0%
Other
0%
Poll Posted: February 2nd, 2007
Matthew Ashford
's (
Jack Deveraux
) rollercoaster ride with Days of our Lives continues. A little more than six months after the actor was staying - then going -- comes word that the actor is now... returning.
During an interview with the Bradenton Herald, in which he was promoting his role in the independent film, "The Unlikely's," Ashford revealed that he will be returning to DAYS later this winter.
The return will be the latest twist and turn for the actor who has been a member of the Days of our Lives cast on an off-and-on basis since 1987.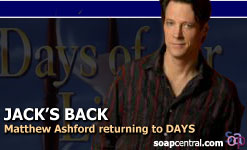 In June 2006, Soap Central reported that Ashford had signed a new contract with the NBC soap. Though the terms of the deal were not revealed, it was widely believed that the contract would extend Ashford's stay in Salem for at least another year.
Then, just about a month later, Ashford broke the news that he was leaving the show - in spite of that contract. The exit was scripted to coincide with the exit of Ashford's on-screen love, Melissa Reeves (Jennifer Deveraux).
Both Ashford and Reeves exited DAYS in August.
Since his departure, Ashford has been working on the film "The Unlikely's." In the film, Ashford appears as the son of a recently-deceased screenwriter whose will stipulates that his son must make a movie from his final movie script in order to inherit his millions.
As reported last year, the door was left open for Ashford and Reeves to return at a later date. Reeves will reportedly not be returning to Salem this time around and it is unclear at this time how the show will address her absence.
A Days of our Lives spokesperson tells Soap Central that ths show "cannot provide any details regarding casting at this moment."