Former Days of our Live star Lanna Saunders (ex-Sister Marie Horton) has died. The actress, a veteran of both the stage and the screen, died at the age of 65 due to complications of Multiple Sclerosis.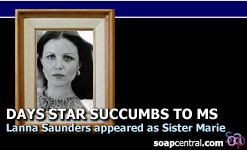 Born in New York City, Ms. Saunders was the third generation of a family of actors and the daughter of Nicholas Saunders, who died last August at the age of 92. She began her career on Broadway at 13, where she appeared in Sunrise at Campobello, then as the ingénue lead in Jerry Herman's first Broadway hit, Milk & Honey and was original member of the Lincoln Center Company under Elia Kazan and Robert Whitehead. It was under Mr. Kazan's direction that she appeared in After The Fall by Arthur Miller.
She had an extensive TV and film career, but was perhaps best known for her role of Roz Kraft in the film Body Heat and as Sister Marie Horton on Days of Our Lives.
Ms. Saunders is survived by her husband Lawrence and son David Pressman as well as her mother and brother, jazz pianist Theo Saunders.
In lieu of flowers, donations should be made to the M.S. Society (2440 S. Sepulveda. #115, Los Angeles CA 90064) or Actors Fund (5757 Wilshire Blvd #400, Los Angeles CA 90036).