What do you think of Soap Star's decision to offer a DAYS role as a prize?

I would rather DAYS focus on existing characters rather than new ones.
47%
I think the idea is silly. These roles obviously do not work out.
23%
It's a great idea. I can't wait to watch the contestants battle it out.
21%
It seems like a good idea, but I don't get SOAPnet in my area.
6%
I don't have an opinion about the contest at this time.
3%
Other
0%
Poll Posted: March 4, 2007
Ashlee Holland, a mother and the daughter of a former professional baseball pitcher, has been crowned the latest winner of the SOAPnet reality series "I Wanna Be A Soap Star." The announcement came during a live telecast on Tuesday, October 16th.
While this will be Holland's first regular acting gig, the fledgling actress has appeared in several feature films, including Torque, The Hot Chick and Honey. Holland has also appeared in a handful of music videos, including rapper Jay-Z's "Dirt Off Your Shoulder," the Black Eyed Peas ""Don't Phunk with My Heart" and Canadian chanteuse Celine Dion's ""One Heart."
"I look forward to working with Ashlee. I believe she will bring a hunger and a passion to her work at DAYS OF OUR LIVES," said Days of our Lives' casting director, Marnie Saitta. "She will be a welcome addition to our talented cast as it is always inspiring to see someone follow their dreams. Her determination and talent have made her dreams a reality."
Holland is the daughter of Al Holland, a former Major League Baseball relief pitcher who played for the Philadelphia Phillies, New the New York Yankees and the Pittsburgh Pirates.
Many of Holland's soon-to-be co-stars were on hand for the live finale of Soap Star. Among them were Darin Brooks, Rachel Melvin, Leann Hunley, Martha Madison, Shelley Hennig, Blake Berris, Brandon Beemer, the recently-returned Nadia Bjorlin and Emmy-nominated James Reynolds (Abe Carver).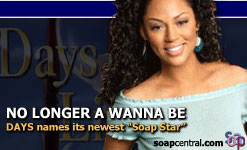 "Not only physically is she very attractive, but she also has this kind of confident quality that's going to add to the texture of the show," praised Reynolds. "I'm really pleased to see her come."
As in previous editions of Soap Star, the show's winner receives a 13-week contract with one of daytime's hottest soaps. After that contract expires, it is up the show to determine if the actor or actress will continue. Only one of the series' previous three winners -- Alec Musser (Del Henry, All My Children) -- is still working in daytime. General Hospital and One Life to Live have also been part of the Soap Star contest in years past. This marked the first time that a non-ABC soap was featured on the reality series. SOAPnet and ABC are both owned by Disney.
Holland was originally schedule to have only a few days off before reporting to work. However, Holland's October 19th start date with DAYS was pushed back to allow head writer Hogan Sheffer to craft a "new, exciting storyline" for the actress. Sheffer also served as a judge on this year's Soap Star panel. Holland is now schedule to begin won on November 30th with a first airdate of Wednesday, December 26th.