Less than a year after joining Days of our Lives, newcomer Marcus Patrick (Jett Carver) has been let go by the NBC soap. The decision to axe Patrick comes just a few months after the actor appeared in a risqué photo spread. However a show spokesperson insists that the photos had nothing to do with why Patrick was let go.
Do you agree with DAYS' decision to oust Marcus Patrick as Jett?

No. What Patrick did in his own time is his own business.
39%
Yes. I think posing naked was wrong and DAYS was right to fire him.
32%
No. I thought Patrick was doing great and I don't care about the photos.
10%
I'm surprised. The photos had to be good publicity for DAYS.
6%
I liked Patrick's work, but I just didn't see a need for Jett on DAYS.
6%
Yes. I did not care for Patrick's work as Jett. The photos are irrelevant.
6%
Other
1%
Poll Posted: November 10, 2007
Rumors of Patrick's dismissal first started circulating in August, when the actor posed sans clothing for Playgirl. Patrick appeared as the cover model for the September 2007 issue of the magazine. It is unclear if the nude spread had anything to do with the actor's dismissal from Days of our Lives, but tabloid newspaper
The Globe
printed an article saying that NBC brass was unhappy with Patrick's appearance in Playgirl. Other daytime stars have appeared in various adult entertainment mediums - but none while currently working in daytime.
This marks the second time that Patrick has been bumped by a soap. Patrick joined All My Children as Jamal Cudahy in June 2006, but asked to be released from the ABC soap just three months later. Patrick's character was never given much in the way of story and the request for an exit seemed understandable.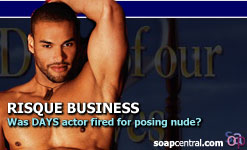 In a published interview, Patrick stated that the show's executives claimed his dismissal was "just show business." A show spokesperson did not immediately reply to requests for a statement by Soap Central.
However, a Days of our Lives spokesperson vehemently denies the claims, saying that any statement about the Playgirl spread being the reason "why Marcus Patrick was let go is NOT correct." The spokesperson also explained that it is not show policy to comment when a character is written out of the show.
Patrick will last air on November 14. The role of Jett is not expected to be recast at this time.