Days of our Lives is making some changes that will bring a little more harmony to it roster. Make that a little more Harmony.
Soap Opera Digest is reporting that Felisha Terrell (Arianna Hernandez) has been let go. The actress, who joined the show just three month ago, will be replaced by former Passions star Lindsay Hartley (ex-Theresa Lopez-Fitzgerald, Passions).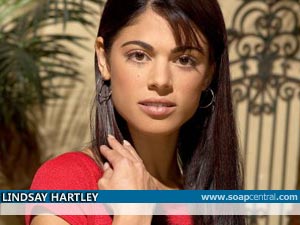 With her addition to the DAYS cast, Hartley will be reunited with two of her former Passions castmates: Galen Gering (Rafe Hernandez; ex-Luis Lopez-Fitzgerald, Passions) and Eric Martsolf (Brady Black; ex-Ethan Winthrop). The reunion will provide a bit of déjà vu for fans of the former NBC soap. Hartley and Gering will again play brother and sister and Hartley and Martsolf will be re-paired romantically.
Since Passions ended its run last year, Hartley has kept a relatively low profile. In April, she appeared on an episode of the primetime drama series, CSI: Crime Scene Investigation.
Terrell joined the cast of Days of our Lives in April and she will last air on August 25. Hartley taped her first DAYS scenes on July 23. Those scenes will air on August 28.
A show spokesperson did not immediately return requests for comment.