Ah, the summer! A good time to grab a cold one, relax, and reflect on warm, sunny memories. Sadly, in Salem, the past few years have been a little... we'll go with... "rough," and there hasn't been a lot of positivity to ponder. However, your faithful DAYS Two Scoopers dug deep! Last month, we reflected on the Shiny Happy People that made the Higley Regime bearable. This month, we're focusing on some of the places we found joy in during even the most joyless DAYS.
Warning! If your favorite places have been meat lockers, freezers, generic blue offices, or Club TBD, we apologize in advance. And sorry if you enjoy a night out at the club, but at least one of your DAYS Two Scoopers *cough Tony* still resents it being built on the Cheatin' Heart's former site. But we digress...
So, get ready! Put on your comfy shoes. Fill up a roadie. And join us as we take a stroll through some of our favorite homes, businesses, and public places as we go Walkin' on the sun in this month's edition of the Summer of Sunshine! Of course, be sure to leave feedback below, Tweet, or message board about your Salem "happy places." We look forward to you adding to the list!
The Brady Pub
We've always had a special place in our hearts for Brady's Pub. Some of us might even own
glassware
from the place. However, with Roman behind the bar, slinging both drinks and advice, the place seems even better. Whether it's a cup of comfort chowder or a tall, frosty beer, we're always glad to pull up a seat at the pub!
Any Place Rafe Lives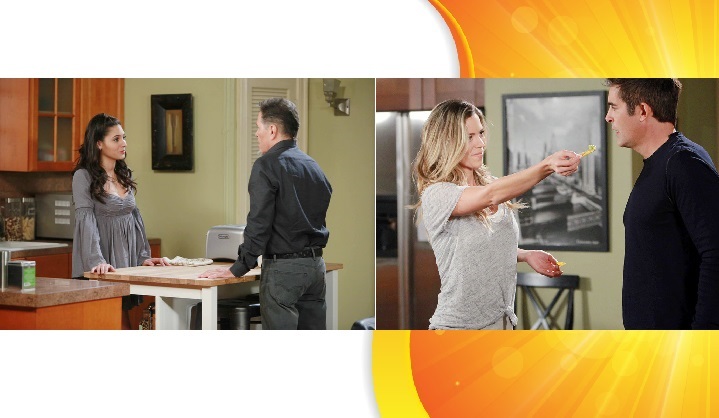 You guys, we're convinced that Rafe is actually a wizard. Every place he's lived grows rooms like it's some sort of real estate clown car. Remember when Sami and the kids moved in with him in his loft? At one point, he had six people living in a supposedly one-bedroom place! Now, the guy owns a house that recently accommodated four grown adults
and Maggie's old kitchen
! Plus, the house has bathrooms the size of most city apartments! Either Rafe is the best part-time contractor in DAYS history, or he has magical powers. We think the latter is more interesting.
Horton Town Square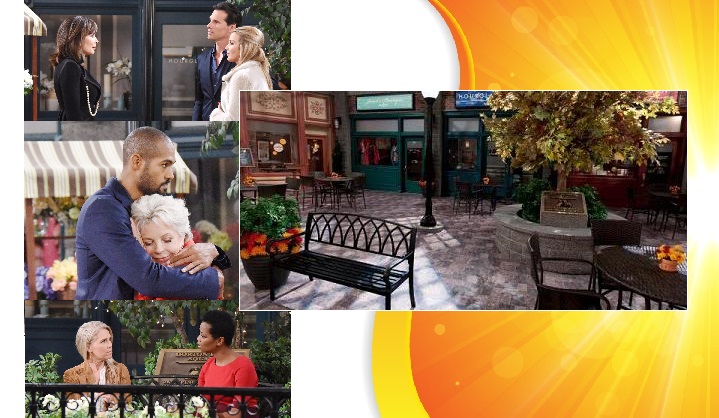 Full disclosure: Yes, the town square set gets more of a workout than mentions of St. Dr. Dead Dan (
maybe?
), but we still enjoy strolling through nonetheless. Not only is it a hotbed for scandalous activities, romantic rendezvous, and family function (like the charming "Welcome to the Horton Family" party for Eli), it's also kind of fun to window shop in the various businesses with tongue-in-cheek names or with names that nod to DAYS' history. Just don't apply to the frozen yogurt shop, as you probably won't get hired. Plus, it's in honor of Tom and Alice. They'd want us to be there. If that's not reason enough, it seems like the square is just a short walk to anywhere --
ANYWHERE
-- in Salem. Can't beat that commute.
Hope's House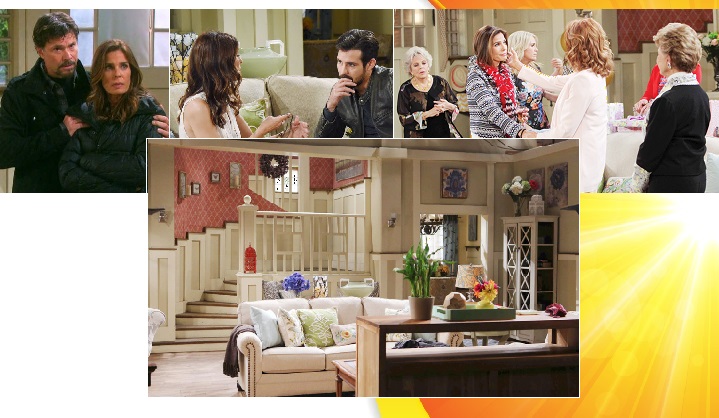 The house of "Bope" always brings a smile to our faces. Sure, Hope lives there alone now, and sure, some disastrous things have happened there, but no matter what goes on there, it's still a home we enjoy spending an afternoon in. From the interior design to the funky staircase to that green vase that Tony still wants, we kind of dig this
fancy place
. "Fancy place!" Get it!? Okay. Sorry.
Chez Rouge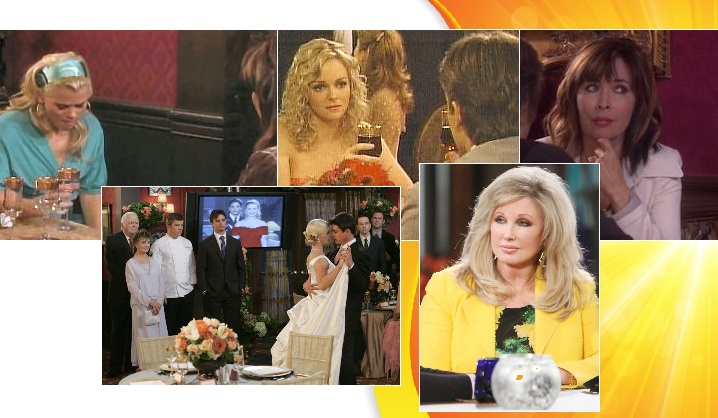 Anjelica mentioned eating there recently, so we're counting it! There's always been something lush about the place. Perhaps because its oozes Maggie's class. Or perhaps it's because it's the setting for power dinners and New Year's Eve celebrations. We worry that the Martin House/Eli's Home for Young People (seriously,
what does that even mean?
) will replace it as far as fine dining choices go in Salem. So, we're starting the campaign now! #SaveChezRouge
DiMera Mansion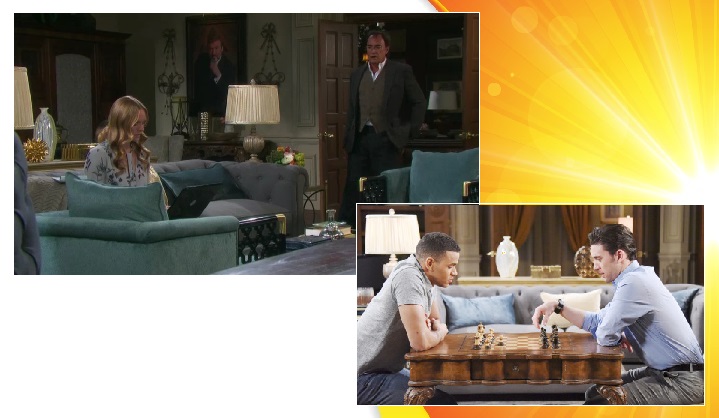 We love the new look for the main part of the living room. The furniture is cool, and the throw pillows make that couch look 1000 time more inviting than it ever did in the past. But we appreciate how the accents around the perimeter are still there. The chessboard is always set. That grand fireplace still stands at attention. And, of course, Stefano's portrait -- now a fantastic tribute to the late, great Joe Mascolo -- still hangs over it all.
The Pier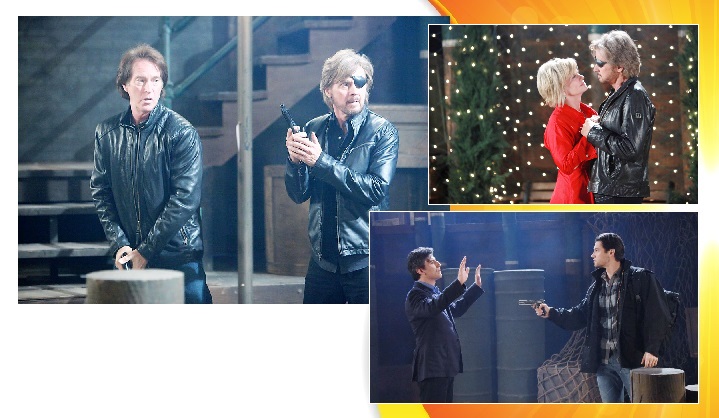 Take that, park near Horton Town Square with all your crime and, well, more crime! The pier made a few Salem cameos once again over the past few years, and we couldn't be happier. After all, it was the original place of crime and, well, more crime. Though there were also happy occasions on the pier, too, like the Brady family fishing, plus it's where the
Fancy Face
docked, where John/Roman reunited with Doc in her pink jumpsuit thingy -- okay, it's where a lot of people reunited. Point of the story, we hope to see more of it again as we look forward to sunnier DAYS ahead, strolling along the waterfront.
Kayla's House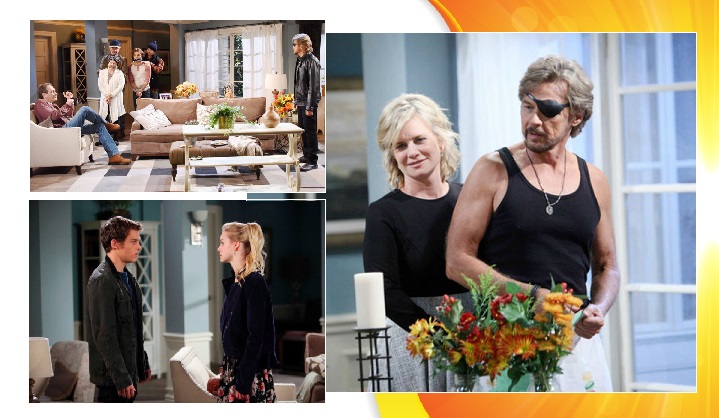 The DiMera and Kiriakis mansions got decorating facelifts recently. But it's all because they were just trying to keep up with Kayla's mad styling skills. Her house with cool "natural" light and the use of blues and bright woodwork feels both posh and comfortable at the same time -- much like Sweetness herself! Here's hoping we get to see the place again soon!
St. Luke's Church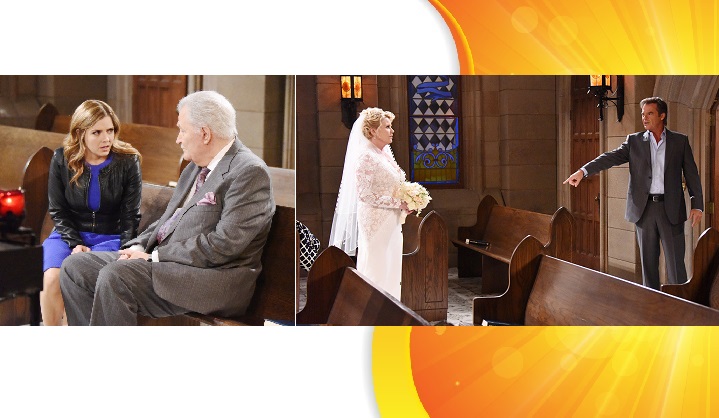 Not only is St. Luke's one of DAYS bigger, more elegant sets, but we also know that when we walk into that house of God, we'll be saying, "Oh, my God!" within a matter of minutes. Something crazy
always
happens there. From disrupted "I do's" to baptisms gone bad, we know the holy sh--, err,
stuff
will hit the fan sooner rather than later. We raise our church hands and shout "Amen!" to that.
Horton House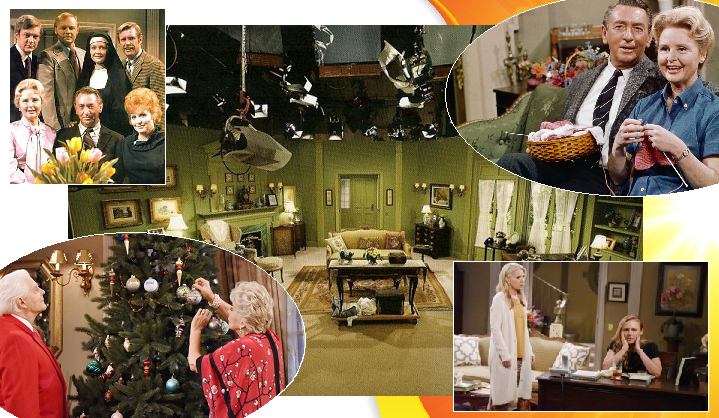 Loving the house that Tom and Alice built is a little bittersweet now --
Thanks
, Higley. Sure, it's DAYS' number one set. It's iconic. It's especially a joy to spend the holidays there! Though it took a hit when Chase raped Ciara on the sofa. That sentence never gets less maddening to write, and we hate that it happened there and, well, at all. We hope that with a new head writer, we get a new couch, too. That way we won't feel so icky about going back into our favorite living room again. Idea! Maybe J.J. can bake the doughnuts, and everyone can have a redecorating party. After all, we all need a fun, fresh start these DAYS.
What are some of your favorite past and present Salem hot spots? Is there a set that doesn't exist that you'd like to see created? We want to hear from you -- and there are many ways you can share your thoughts.