Days of our Lives Recaps: The week of October 2, 2000 on DAYS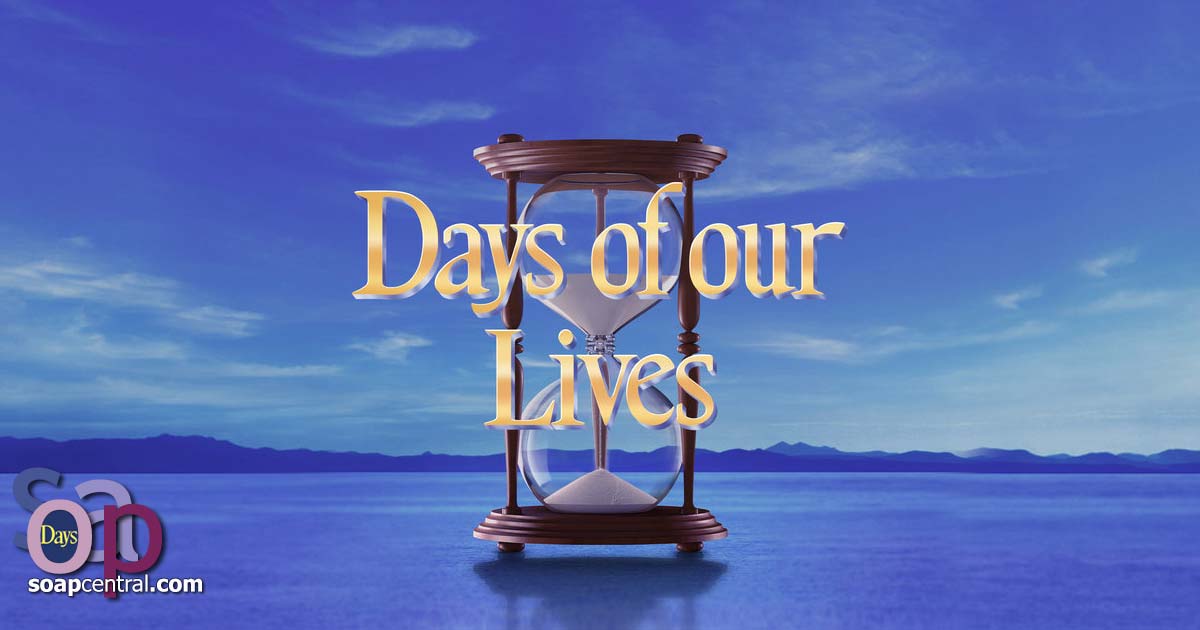 Monday, October 2, 2000
Chloe starts crying when she finds a present waiting for her in her room and realizes her mother did remember her birthday. She opens the present and finds a hair clip and a pair of earrings. Opening another, she sees Nancy's diary inside and starts to read it. Nicole spots Philip about to leave the mansion with his guitar. She warns that trying to serenade Chloe may be a big mistake but he insists that it was his father's advice. He hurries to Chloe's place but runs into Craig who blasts him for the pain he's caused Chloe. Philip admits that he made a mistake but now cares for her and wants to make it up to her. Craig orders him to leave. Victor calls to chat with his son but Nicole flirts with him as they chit chat. Marlena mistakenly assumes Brady and Belle are fighting and orders Brady to stop. He resents the implication and storms out. Belle tries to explain what they were doing but fails as Marlena surprises her and John by demanding that Brady be arrested. John suggests that Marlena get control of herself and then runs to find his son. Belle finds him first and as John watches, she manages to cheer him. Brandon cools off Angela and sends her home without having to make love. After Sami tumbles off the cliff, Kate updates Lucas who accuses her of killing Sami. She denies it, unaware that Sami has landed on a ledge. Brandon realizes where she has gone and rushes to the cliff, arriving in time to hear Sami yelling.


Tuesday, October 3, 2000
Hattie returns to the diner and complains to her ex-boss, boasting about how glad she is she's not working there anymore. When she mentions the idea of plastic surgery, Faye urges her not to waste her money on such an expensive procedure. Roman arrives and comments on the weight Hattie has lost. Hattie glows with the compliment. Before she leaves for school, Belle argues with Brady again. After she's gone, Brady searches for his father's cash and comes up lucky. Before he leaves for school, Nicole advises Philip to take things slowly with Chloe. Chloe thanks her mother for the gifts in her room and apologizes for her earlier outburst. At school Chloe's uncomfortable when she runs into Philip. Kate takes Victor aside and reveals that they have killed Sami but reminds him to stay calm and play up the "accident" should Lucas ask anything. Just then, Lucas enters and worries that they'll be blamed for Sami's "accident." Assuring him that they'll be fine, Kate suggests they go back to Salem today but Victor refuses. Brandon lowers himself down to Sami but then faces danger on the side of the cliff.


Wednesday, October 4, 2000
Philip begs for 5 minutes with Chloe to explain about the bet. They step outside and he admits being a jerk and going along with the bet. He tells her that was the winner though and how hooked he is on her. He tells her he didn't fake anything with her after the dance, all he wants is to be with her. She asks why he didn't tell her the truth before and he confesses he's tried, but was worried how she'd take it. He can't change what he did, but promises to never do something like that again to anyone. She contemplates that and as he starts to walk away, she tells him she believes he's sorry. She asks what now with a smile. He asks if they can be friends, as he knows he's not the right guy to be dating her. He finally admits he really wants only to be with her, but she's too good for him. She needs a guy who deserves her. She asks how she's suppose to meet the right guy and he tells her once this guy gets to know her, he won't be able to stay away, just like he can't. He raves about her singing and how her heart is into it. She tells him she thinks Philip is good enough for her and he said if that were true, she'd forgive him for what he did, not just believe him that he was sorry. She tells him eye to eye she forgives him and wants him in her life. He takes her into his arms and hugs her gently. He asks if she'll go out with him again and she doesn't think she can. She doesn't want to go through this again. He asks if she'll be home tonight and to be by her window when the sun goes down.

Brady returns home loaded with shopping bags and finds John at the "scene of the crime" on the terrace. John asks Brady how he got a new watch and all the stuff he brought home and knows Brady didn't have any cash and his ATM was maxed. Brady tells him he stole them. John believes him and Brady is hurt his father would believe that. He takes the bags up to his room and kicks the door shut with his foot. John angrily rushes up the stairs, grabs Brady by the coat and forces him down the stairs to the couch. Brady is shocked by this and accuses John of trying to kill him. John assures him if he had meant to do that, he would have. They talk about Isabella and John tells him the only way he was able to go on after Isabella died was because of Brady. He'd see and hear things from him that Isabella would have said and felt her presence through Brady. Brady listens, but doesn't buy it. John tells him that he Marlena, Belle and Brady ARE a family. John doesn't take Brady's guff. Brady knows he's the loser son and they want him out of there. Brady does admit stealing the stuff, but not from Barron's, but from John.

Nancy tells Marlena about the bet. Marlena tells Nancy she knows these boys, especially Shawn, and she feels they didn't do it to hurt Chloe. Nancy reminds her about what you read in the paper about how everyone thought kids were nice, until they do something bad. Marlena comments on that, referring to Brady without using his name, and Nancy senses Marlena's maybe in danger. Marlena tells her she was speaking in general terms and changes the subject to Chloe. Marlena compliments Nancy saying she sounds like a talk show host. Nancy backpedals and finally says she's had people saying she should be one and Marlena catches on. She tells Nancy that after she spends 8 years of her life to get her MD, she'll turn the show over to her. Nancy isn't discouraged and sits in Marlena's chair. She said Oprah never took any Hippocratic oath and has done very well. She speaks into the microphone, TO HEAR, TO HELP, TO GO TO HELL and giggles.

Marlena returns and the show starts. Calls come in that Nancy doesn't think are WOW enough. She calls Miles and he agrees. She feels Marlena isn't cutting it. She tells Miles to buy Marlena out and she'll (Nancy) work for free. Nancy warns him their ratings are going down so fast, he won't have long to think about it.

Belle comes to the studio and Marlena comments she likes Belle's haircut She tells Belle to see less of Brady and Belle tells her they were only playing around and he's her brother. Marlena warns Belle that Brady is troubled, but Belle doesn't buy it. She says Brady wouldn't hurt anyone and is a sweet loving guy, just like dad. Later they are trying to talk and Nancy interrupts, saying Miles' is on the phone for Marlena. Marlena tells Miles she's busy and will call back, but he's upset about the ratings and wants to talk now. Marlena tells him she'll call him back and hangs up, much to Belle's surprise. She never saw her mother so abrupt with anyone before. Marlena blames it on sleep deprivation. Belle refuses to see Brady less and tells Marlena she's wrong about him and leaves. Nancy wastes no time coming in and telling Marlena she seems to be upsetting everyone today. Later Nancy calls DADDY and tells him how badly she wants a radio show. Sounds like he agrees and she takes Marlena's nameplate and throws it in the trash can. Belle returns to school and a picture of their family falls on the floor. She wonders what's going wrong with them.

Roman and Hattie sit together with a plate of 4 donuts on the table. She eyes them hungrily and although Roman offers her one, she is determined to stay on her diet. Gotta love him for telling her not to become a "walking transparency." Marlena's talk show starts and she tells Roman how much she hates that show and Marlena's a phony. She knows her better than Roman ever could. He starts to tell Hattie how he met Marlena, but a customer sneaks behind the bar and turns up Dr. Marlena again. Hattie interrupts him and yells for Faye to turn the radio down again and proceeds to tell Roman she knows how wonderful Marlena was and how she left her husband and children for Mr. John Black. Roman doesn't tell her yet that HE was that husband, just tells her it may have been more complicated than that. Hattie goes on about how John Black is so rich and that's why Marlena liked him. She tells Roman how she saw John Black at Tuscany and how rude he was to the woman owner. Roman is surprised and mentions Maggie's name. Hattie assumes that Roman knows everyone in his official capacity and tells Roman that Marlena will be flying solo soon the way John's acting. Roman again tries to tell her how he knows Marlena, but Hattie goes on about Marlena. She even bets Marlena's ex husband is glad to be rid of her. He tells her no and just about to tell her the truth when he gets paged and has to rush off to work. He tells Hattie they will talk later and she's worried she upset him.

Stefano is sitting at the Café's counter, talking to Rolf on the phone. He's worried that Hattie is with Roman right now. He hopes Hattie doesn't know what's really going on and nervously sees Faye standing in front of him, not sure what she heard. She didn't hear and he asks about Hattie. She tells him Hattie was let go and is happy she found a friend who cares about her (referring to Roman). He calls Rolf back to confirm Roman and Hattie are friends and figures Roman will go "bonkers" over her if she looks like Marlena. Marlena's show starts and that's when Hattie yells for Faye to turn it down. Later Stefano tries to get as much info about Hattie from Faye as he can.

Marlena returns to the Penthouse after the radio show and finds John and Brady arguing. Brady sees her at the doorway and leaves. Marlena tries to assure John that he's a loving father and he's not responsible for Brady's problems and unhappiness. John looks at Marlena and tells her no, you are.