Days of our Lives Recaps: The week of February 14, 2005 on DAYS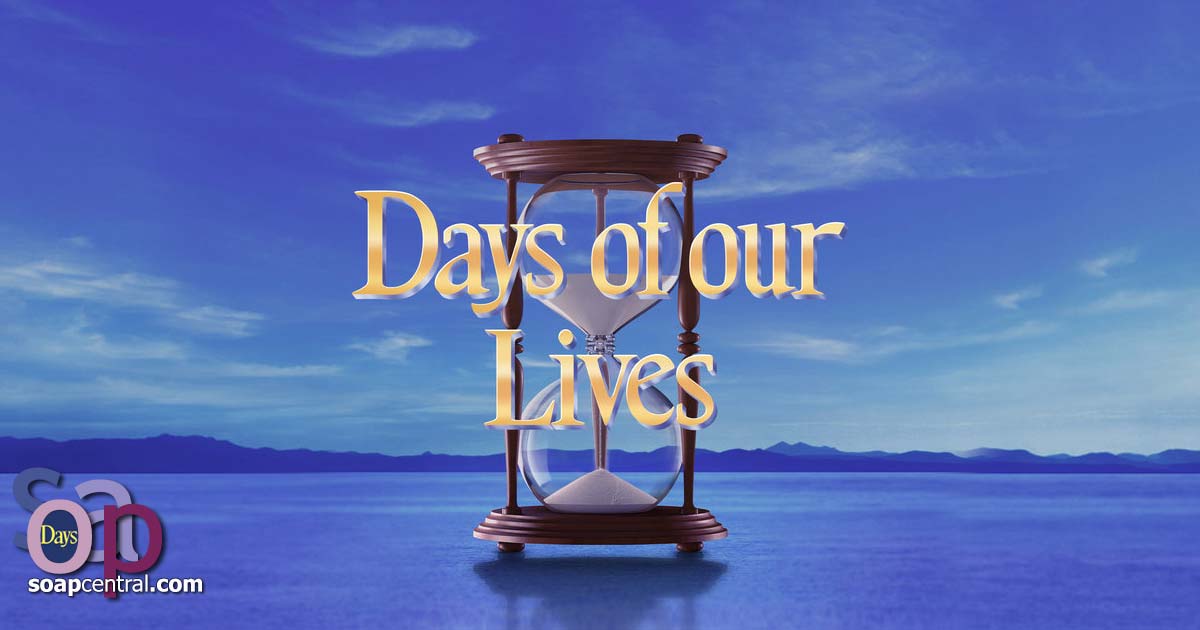 Monday, February 14, 2005
At Salem Hospital, Shawn continued to push Belle on telling Philip, but a reluctant Belle wanted to concentrate on Mimi's health. When Shawn said, "I know what Mimi would want," a ticked off Belle told Shawn to knock it off and leave her alone about Philip.
A worried doctor pulled Rex aside to talk to him about Mimi's medical history and the abortion, but Bonnie interrupted and cut Rex out of the conversation. Once alone, Bonnie learned of Mimi's pelvic inflammation. Bonnie broke into tears, blaming herself for Mimi's illness. After the doctor left, Belle comforted Bonnie and informed her she knew of the abortion. A near hysterical Bonnie continued to blame herself for pushing a vulnerable Mimi into having the abortion and called herself a monster. Belle insisted Mimi was a strong, independent woman and made the decision herself. Putting her arms around her, Belle told Bonnie no one could make Mimi happier than Rex. Bonnie finally admitted it was true and regretted ever meddling in their relationship.
In the hospital bed, a delirious Mimi continued to dream of the glowing baby boy. Mimi called out to Rex, wanting to tell him about the abortion. Rex went to her as a composed Mimi told him she needed to tell him the whole truth about why she was ill. Rex promised to love her no matter what. Nearby, Bonnie prayed to heal Mimi and promised to never interfere in Mimi and Rex's relationship again.
Belle apologized to Shawn for snapping at him and promised to tell Philip soon. Pleased, Shawn told her that before he only meant to ask her to go to the chapel with him and was not going to ask about Philip.
Down on the pier, Brady tussled with John over his recent drug deal. John tried to tackle Brady but his son knocked him flat with one punch. As Brady bent down to check on him, a police boat pulled up to investigate. When one officer found a syringe nearby, he decided to arrest them both. However, a remarkably quick thinking John tipped off the officer as to his identity and spun a story about how he was doing an undercover drug sting with the ISA. Believing John, the cops let them go.
Back at the Penthouse, Kate's alibi was almost blown when an enraged Brady wondered where the hell Kate and the nurse were while John was sneaking out into the night. Brady fired the nurse and swore to call Judge Kirkpatrick to force John into a rehab program. John fiercely objected.
With Eugenia giving Kate a blow by blow over the phone down the hall at the hotel, Lucas banged loudly on Brandon's hotel room door. At first Lucas did not believe the PI but became suspicious when he heard noises inside the room.
In the room a still groggy Sami and Brandon began to awaken. At first Sami thought Brandon was Lucas but then freaked when she realized she was naked next to Brandon and knocked over a lamp. The noise made Lucas knock harder and an annoyed Brandon answered the door as Sami hid under the covers. Brandon tried to keep Lucas out, but Lucas soon found Sami. A tearful Sami tried to explain that she didn't know what happened last night because she couldn't remember. Lucas said, "You haven't changed!" He explained he was ready to marry her but that, as predicted, she was the only one who could screw it up. And she did.
Tuesday, February 15, 2005
Lucas is still confronting Sami and Brandon in the hotel room. Sami continues to claim innocence and complete ignorance of how she wound up naked in bed with Brandon. She explains how she read her horoscope and came here only to try to prevent Brandon from screwing up her wedding. She tells Lucas how she lied to the maid to get into the room. Lucas checks with a maid who denies any involvement. Of course, the "maid" Sami spoke to was Kate. Lucas is convinced this story, too, is nothing but another Sami lie. He tells her in no uncertain terms they are not getting married. Lucas leaves and Sami is devastated. Lucas wants answers and is determined to get the truth. In the room, Brandon tries to help Sami figure out how this happened. When a crime has been committed, the culprit is usually the person who stands to profit most... Kate!
In Marlena's bedroom, Kate is comforting John who feels guilty about trying to score drugs and fighting with his son. He accidentally spills water on Kate's clothes and Kate changes into "Valentine's" pajamas of Marlena's. John sees them and is affected.
In the castle, Marlena is frustrated, angry and desperate to get home to John and her family. Roman tries to calm her as best he can. Suddenly, the smell of roses is pumped into the room and Roman and Marlena remember an early Valentine's Day together; before they were a couple but were feeling an attraction. The TV monitor comes on and once again, Marlena and Roman see John and Kate in what appears to be an intimate situation. Marlena sees that Kate is wearing her pajamas and is upset... John always promised she would be his Valentine. Roman says he promised her that, too, and she still is. He takes her in his arms and they melt into a kiss.
Maggie stops by Bo and Hope's for help planning a romantic Valentine and anniversary meal for Mickey. Maggie talks to Hope about her situation with Bonnie and Mickey, similar to Hope's situation with Bo and Billie. Maggie gets a call from Mickey and tells Hope that Bo is at the station with Billie.
Bo, Jennifer, and Mickey arrive to bail Billie and Patrick out of jail. Bo is angry when he learns Patrick was the one who started Billie drinking. Patrick learns about Billie's addictive personality. Billie and Patrick are out on bail but have to face a trial. Billie worries: if she's convicted, she could be fired from the ISA. Bo comforts her as Hope arrives and sees them together once again.
Wednesday, February 16, 2005
Brandon comes home to Lexie and fills her in on what happened at the hotel. Lexie is quick to blame Sami but Brandon thinks the whole thing was a set up. Comparing notes, Brandon and Lexie realize someone sent Brandon a fake email from Lexie to get him to come home. Brandon is more and more convinced that Kate is involved!
It is the morning of what would have been Lucas and Sami's wedding day. Sad and resigned, Lucas is forced to break the bad news to his son. Will is devastated but not surprised. Sami is determined to marry Lucas and will not let Kate get away with stopping this wedding. Sami puts on her gown, gets her bouquet and heads out to get married! Kate shows up at Lucas' dressed for the wedding and anxious for news. Kate tries to cover her glee when Lucas tells her the wedding is off. She feels genuinely sorry for her son and her grandson and goes off to comfort Will. Sami arrives and Lucas is shocked to see her in her wedding gown. Sami again insists she is innocent and wants to go ahead with their wedding. Lucas, still hurt and angry, won't hear of it. His fury escalates when Brandon shows up. Brandon comes to Sami's defense and they are both convinced they were set up and know who the culprit is... Kate! Kate enters to face her accusers.
Brady comes to visit John while Kate goes to her son's "wedding." He still thinks his father should be in drug rehab but John refuses to go. Brady feels terrible about decking his father last night and apologizes. Brady thinks John will need emotional support to help him kick the drug habit. John quickly says no one could ever take the place of Marlena but Brady again suggests John has already found his next great love and soul mate in Kate.
Maggie surprises Mickey with a Valentine's anniversary meal. Since Mickey was out all night bailing Billie and Patrick out of jail the romantic dinner becomes a romantic breakfast. Maggie tries to walk Mickey down memory lane but Bonnie crashes the party. She immediately gets Mickey's sympathy by telling him about her daughter tenuous medical condition. Mickey offers to call the hospital to make sure Mimi gets the very best care and Bonnie is very grateful. Alone with Maggie, the fur flies. Maggie is resolved to win Mickey back and she is going to take a page from Bonnie's own book and fight dirty!
Thursday, February 17, 2005
Sami and Brandon are certain that Kate set the two of them up. Kate holds firm while Lucas questions his mother. She gladly tells Sami and Brandon that she is responsible. Lucas is stunned but Kate quickly clarifies that she is only responsible for hiring a (fictitious) private investigator. Sami doesn't buy this and believes the maid who let her into Brandon's room was also Kate's doing. Brandon chimes in with a few questions and Kate quickly points out that Brandon is a victim just like Lucas: a victim of Sami's lies. Lucas points out that everything that apparently happened sounds just like something Sami would do and Sami has no choice but to admit that they are all right.
Eugenia enjoys a delicious congratulatory gift basket from Kate while telling psychic Marguerite all about the successful downfall of Sami Brady. Eugenia eats too much but feels satisfied knowing Sami is down for the count.
Belle tries to help Mimi who is feeling guilty over not being able to tell Rex the truth. Belle feels as if she is in the same boat because she is unable to tell Philip about her and Shawn. Mimi is taunted by the vision of the ghost child again and Belle reassures Mimi that the two of them will find happiness.
Philip volunteers for a dangerous mission that will help bring him home sooner.
Rex and Shawn exchange heated words about how he and Belle are treating Philip. Jan attempts to win back Shawn but Shawn pushes her away. They all learn that Sami's wedding is off. Shawn blows Jan off and Rex tries to talk some sense into her; Jan tells Rex to leave her alone -- he thinks he has such a perfect life but has no idea what Mimi has done to him. Philip calls Belle at Mimi's and Shawn answers the phone!
Friday, February 18, 2005
It appears Sami has admitted to setting Brandon up herself; she denies and continues blaming Kate. Kate took examples of Sami's past bad behaviors and used similar 'techniques' to destroy Sami - using her own schemes. Kate claims innocence and Sami has no proof. Finally, even Lucas appears to be on Kate's side. Sami runs off and locks herself in the bathroom. Brandon takes Kate aside and warns that if she is behind this and Lucas learns the truth, she will lose him and Will. Sami emerges and, in a last desperate attempt to fix things, tells Lucas she loves him and still wants to marry him. Lucas, to Kate's horror and dismay, says he still loves Sami and wants to marry her, too.
Bo has spent the night on the sofa. Hope recalls the argument they had when they got back from the police station the previous night - she accused Bo of running off to rescue Billie again and as Bo attempted to explain Hope would not be mollified. She stormed off to bed, telling Bo to spend the night on the sofa. Now, the morning after, both regret the fight. Bo should have told Hope what he was doing but Billie needed his help. Hope tries to get Bo to promise not to go running off every time Billie calls, that this is their home and their marriage has to be 50/50. Bo agrees and doesn't want Billie or anything to disrupt their home life. At this moment Billie appears, having spent the night in the guest room! Hope is shocked as Bo explains he had Billie give his and Hope's address at her arraignment. Billie heads upstairs to change. Bo apologizes again and said he tried to tell Hope last night but they were having an argument. He promises that after the hearing Billie will call Kate and move in with her. Bo goes up to take a shower and walks into the bathroom. He finds himself face-to-face with naked Billie and Hope comes in with clean towels...
Belle and Mimi both decide they have to tell the truth to Rex and Philip. Mimi has to tell Rex she was pregnant with his child and had an abortion. Belle has to tell Philip that she's still in love with Shawn. After Belle leaves and Rex arrives, Mimi is poised to tell Rex about the baby.
At Shawn's loft, Shawn has answered the phone to Philip call. Shawn nearly tells Philip the truth. Rex grabs the phone away before he can and tells Philip Belle isn't home. Philip will call her later. Jan continues to make veiled comments to Rex about Mimi's "secrets and lies." Rex refuses to believe Mimi could be duplicitous and leaves for the hospital. Shawn tells Jan in no uncertain terms that they're through and he wants her to move out. Jan threatens to get revenge on Shawn and Belle. Belle arrives home just as Philip calls back on her cell phone... Belle prepares to tell Philip her truth.