Days of our Lives Recaps: The week of July 3, 2006 on DAYS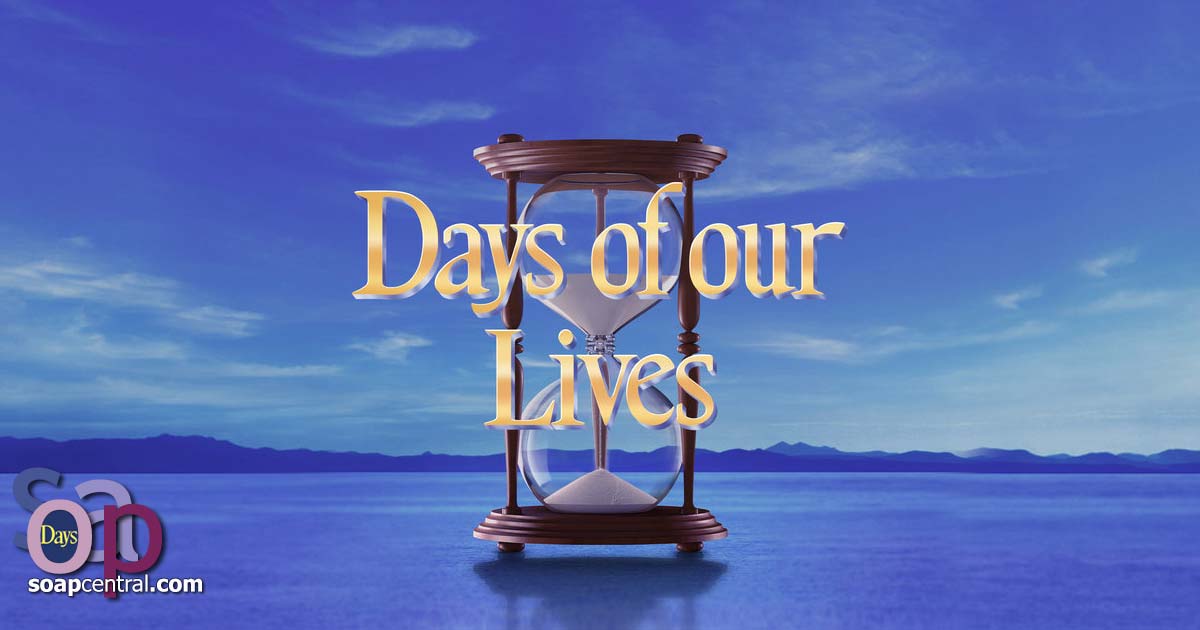 Monday, July 3, 2006
The night before his wedding Lucas arrives to stay in Sami's apartment. Sami misreads the situation and thinks Lucas has changed his mind about marrying Carrie and wants her (Sami) back. Lucas quickly makes it clear to Sami that he's only staying with her for the night and he will marry Carrie in the morning. Lucas also addresses Sami's relationship with Austin by saying that they will only be happy if she is honest with him about everything. Later, a nervous Sami calls Lexie and demands to see her.
Meanwhile, Austin finds Carrie on the roof daydreaming about her wedding. Unbeknownst to Austin, her daydream is about marrying him. Austin asks Carrie if she has changed her mind about marrying Lucas and we see her struggling with her response. At the end of the day, Carrie tells Austin she has to be honest with him and we wonder what she will say.
Hope goes to the hospital to take a test to determine the paternity of her baby. Bo is confident that he's the father. Meanwhile, Patrick runs into Billie at the hospital and they discuss the paternity situation. Bonnie overhears this and gets excited because now both her children are associated with rich families. Shawn overhears that his mother's pregnant and says he hopes Patrick is the father because there is no way Hope can get back together with Bo. Hope asks surprised Shawn to make peace with his father. Everyone learns that Hope's test has been delayed and, to Bo's dismay, she asks Patrick to take her home. Hope later confides in Patrick that knowing the paternity of the baby will help her decide which man she should be with.
Philip and Belle are on tenterhooks. They're nervous about the in vitro fertilization process being a success. Meanwhile we see a gloved hand switch the vials containing the eggs. The wrong eggs are about to be fertilized.
Tuesday, July 4, 2006
Sami confronts Lexie. Why didn't Lexie blow her out of the water? Why didn't she tell everyone the real reason for the blackmail? Kate walks in on them. For a moment, it looks like the jig is up but Kate didn't hear anything incriminating. Nevertheless, Kate is still suspicious. She's determined to get the dirt on Sami to keep her from marrying Austin.
Meanwhile, Carrie tries to be honest with Austin, but she can't tell him the real reason why she chose Lucas. Instead, she presses Austin to be with Sami. Carrie believes Sami has changed. She is convinced they can be happy together. Carrie leaves and Austin realizes he has to decide what he's going to do.
Carrie goes to see Lexie. She's still upset about the fact that she can't have healthy children with Austin. It kills Lexie to keep lying to Carrie, but she has no choice. Meanwhile, Kate rails at Sami until Austin finds them. Now that Carrie is committed to being with Lucas, Austin has resolved to marry Sami, settle down, and have a family with her. And there's nothing his Mom can do to change that. Sami is moved and looks pleased, while Kate fumes. Privately, Kate vows to get Austin away from Sami, and Lexie is the key. Austin takes Sami out to celebrate the Fourth of July at the Salem Fireworks Show. In counterpoint, Carrie prepares to marry Lucas the next day. Guilty Lexie wishes she could tell Carrie the truth and nail Sami once and for all.
Jack and Jennifer share wistful memories. But he is dying and this will be his last Fourth. Jack is sorry he's putting Jennifer through this. Frankie overhears and gets an idea. He wants to take Jack and Jennifer out to see the fireworks on the pier. They are deeply touched by Frankie's gesture. Even Abby is forced to agree that it's a good idea. They have a picnic on the pier and share "Deveraux" burgers with Steve and Kayla. Jack and Jennifer share a bittersweet holiday celebration. Jennifer gets emotional. How she could ever have done this without Frankie? Loving Frankie only wants the best for Jennifer, and for Jack.
Kayla tries to get Steve to remember Fourth of July parties from the past. He is frustrated: he still can't remember. Kayla hopes that reuniting with his daughter Stephanie will help him recall the love they shared as a family. They meet up with Jack, Jennifer and Frankie and enjoy the holiday festivities.
Max pulls out all the stops to romance Chelsea. He tries to convince her that they ought to date exclusively. Chelsea is still hesitant. She's young, she's free, she wants to enjoy herself, and doesn't want to be tied down. Frustrated Max says Chelsea can have a good time, without him. He storms out. Abby warns Chelsea she really blew it. Max is a great guy and Chelsea may have lost him for good. Meanwhile, Max blows off steam on the track, and has a very close call, with a beautiful woman.
Wednesday, July 5, 2006
Excitement and nervousness mount as Lucas and Carrie's wedding is about to get underway. Is the bride having second thoughts? No, she's committed to marrying Lucas and to putting her past with Austin behind her. Meanwhile Kate is resolved to keep Sami from marrying Austin, even if it threatens today's wedding. Kate tells Sami that she overheard the message Sami thought she left on Lexie's cell phone, which Kate furtively answered. Kate knows Sami has a secret that could stop Lucas and Carrie's wedding. Sami is shaken but Carrie is still in the dark regarding Sami's blackmail. Later, Kate grills Lexie but she refuses to spill. Kate knows something is rotten between Sami and Lexie, and she resolves to find out what it is.
Austin sees that Sami is a bundle of nerves. She covers, acting as though it's matron of honor jitters. Lexie stuns Tek, telling him she couldn't blow Sami out of the water. He demands to know why but she won't say. Roman pleads with Abe to give Lexie another chance. Finally, Abe decides to go talk to Lexie, but he finds her in Tek's comforting arms. Furious, Abe stalks out, unnoticed.
Carrie's wedding begins. Sami marches in as matron of honor, praying the wedding works out so that she can marry Austin. Kate has other ideas. She is determined to keep Sami away from Austin, even if it means stopping Lucas and Carrie's wedding.
Shawn, Mimi, Belle and Philip arrive for the wedding. They're jazzed about the in vitro. Meanwhile, the mysterious gloved figure flashes back to switching the name labels on the Petri dishes. Shawn calls the hospital for an update, and hears that the fertilization process was a success. The two couples look forward to having their babies at the same time, but they have no idea about the egg switch!
Max repairs minor damage to his race car after the previous night's accident. The female race car driver reappears and she's gorgeous. As they verbally spar, sparks fly with sexual energy. They race again and it's a draw. It turns out they've been invited to the same wedding.
Thursday, July 6, 2006
Due to NBC Sports coverage of Wimbledon, Days of our Lives and Passions were not shown today.
Broadcasting will resume on Monday, July 10th.
Friday, July 7, 2006
Due to NBC Sports coverage of Wimbledon, Days of our Lives and Passions were not shown today.
Broadcasting will resume on Monday, July 10th.