The 33rd ANNUAL DAYTIME EMMY AWARDS
Zimmer, Geary Pick Up Fourth Emmys
by
Dan J Kroll

Posted Saturday, April 29, 2006 2:08:34 AM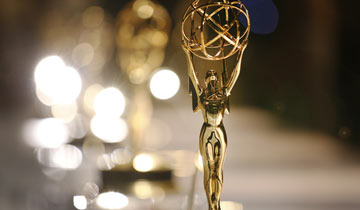 Anthony Geary
(
Luke Spencer
,
General Hospital
For many years the Outstanding Lead Actor category has been a veritable who's who of daytime television. This year, discounting vacation time away from their shows or time spent off-contract, the five nominees in the category have tallied a stunning 80 years spent on the soaps. Anthony Geary (Luke Spencer, General Hospital) leads the pack with 28 years, having first joined General Hospital in 1978. He is followed closely behind by Guiding Light's Robert Newman (Joshua Lewis), who surprisingly picked up just his second Daytime Emmy nomination in this, his 25th year with the CBS soap.
Geary was clearly the front runner among the field. Nearly every media outlet -- and possible betting parlor in Las Vegas -- has the actor as the odds-on favorite.

"It was almost 30 years ago that a creative genius invited me into her office and said, 'I want to create an iconic character for General Hospital the likes of which daytime has never seen before.'," Geary recalled. "And because of Gloria Monty, I'm standing here. God knows where I would be standing without her."
In a time when everything seems to be youth oriented, Geary said that he feels his work has gotten better as he has gotten older.
"My face my have fallen," Geary noted, "but my heart and my work is soaring."
Geary now joins the Emmy elite as this marks his fourth Outstanding Lead Actor trophy. Overall, Geary has amassed ten nominations since his name first appeared on the ballot in 1981.

IN-DEPTHFind out what other GH stars have been named Outstanding Lead Actor.





OUTSTANDING LEAD ACTRESS
Kim Zimmer
(
Reva Shayne,
Guiding Light
)
Though many of the names are familiar, this year's Outstanding Lead Actress category was considerably smaller than last year's ballot, in which a whopping eight actresses received nominations. While short on names, the field is certainly not short on talent: this year's nominations have 23 total nominations between them. Leading the way was ten-time nominee and three-time Emmy winner Kim Zimmer (Reva Shayne, Guiding Light). On the flipside of that figure is soap veteran Bobbie Eakes (Krystal Carey, All My Children), who earned her first Emmy nomination this year in spite of being a fixture on daytime television since 1989.

For soap fans who mistakenly tuned in to the last 30 minutes of the show's broadcast hoping to catch the announcement of the "big three" awards, there was a surprise: there was a shake-up in the order of which this year's winners were announced. The Lead Actress category was announced in the first hour of the three-hour long broadcast.
"Ellen [Wheeler], David Kreizman, all I can say is that Reva has survived 20-plus years because of the writers that are here now and the writers that have come before," Zimmer acknowledged. "They've maintained the integrity of this character through very trying times."
In her acceptance speech, Zimmer offered a nod to her fellow nominees, all of whom dined together yesterday in what has become a yearly tradition. The tradition started last year when Susan Flannery, then the previous year's Outstanding Actress winner who was again nominated in the category, took the seven other nominees in the category out for lunch at Manhattan's Tavern on the Green.
"As long as [Susan] Flannery and myself are nominated every year, it will be a great party," Zimmer chuckled. "And I guess I pick up the tab next year, so all of you wonderful actresses out there who are lucky enough to be in this category, it's on me."
In the press room, Zimmer was overcome by emotion.
"Sometimes they are hot flashes and sometimes they are just moments," Zimmer said in explaining her pride in the show's incredible showing at this year's Emmys.
"Tom is a very special young man," Zimmer said fighting tears. "We've both kind of grown a lot. [Working with Tom] has allowed me to stretch myself and to start taking chances again."
Oddly, Zimmer has made no secret in pointing out that Pelphrey was not her first choice to play the role of her on-screen son.
"He was my last choice," Zimmer admitted. "Thank God the writers don't listen to me!"
This was Zimmer's fourth win in the Outstanding Lead Actress category and her tenth nomination. Her most recent win was in 1990. However, before the show the actress hinted that this could very well be her last Daytime Emmy, hinting that if she won she would remove her name from future Emmy consideration. Backstage, though, Zimmer changed her mind, saying the only way she would withdraw her name was if other Guiding Light actresses stepped up to the plate compete in the lead actress category.
"It depends. I mean, I'll be smart about it," Zimmer clarified. "The only reason I wouldn't withdraw my name is if I thought there weren't other actresses on my show who could step up and take a nomination in [the Outstanding Lead Actress] category. And there are about five great actresses on my show that need to take a chance now and go into the lead category. I'll just have to watch them and see..."

IN-DEPTHRead a biography of Emmy winner Kim Zimmer.