THE 34th ANNUAL DAYTIME EMMY AWARDS
GH actors sweep, Francis wins first Emmy
by
Dan J Kroll

Posted Friday, June 15, 2007 6:53:27 PM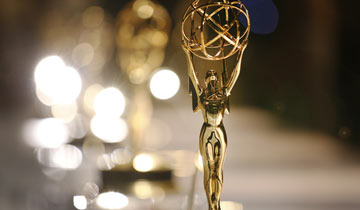 OUTSTANDING SUPPORTING ACTOR
Rick Hearst
(
Ric Lansing
,
General Hospital
)
Hearst, a seven-time nominee, has received nominations in two different categories for work on two different daytime drama series. He received three consecutive nominations from 1991 to 1993 for his work on Guiding Light. His first nomination and win, in 1991, was in the Outstanding Younger Actor field. In 2004, Hearst earned an Emmy for Outstanding Supporting Actor for his work on General Hospital. This year marked his second win in the category in the last three years.
"This is a great, great honor," Hearst smiled as he reflected on his third trophy in the press room. "It never gets old."
The win for Hearst comes only a few weeks after he underwent surgery to remove a polyp from his throat. The surgery sidelined the actor for a short time and he was unable to speak. But not everyone was upset about Hearst having to go silent.
"My children loved it," Hearst laughed.
Ironically, in one of Hearst's Emmy reel scene, his character was pretty badly banged up. The actor opted to put gauze into his mouth to puff up his mouth and make his injuries appear more lifelike. However, General Hospital executive producer Jill Farren Phelps fought Hearst on his decision, stating that the injuries looked a little too real.
"'You don't look pretty,'" Hearst said quoting his boss, before adding his reply. "Sometimes you don't have to look pretty."
While many fans view the Supporting Actor and Actress categories as lesser categories than Lead Actor and Actress, Hearst noted that the category is aptly titled and is in no way indicative of anyone's lacking talent.
"This category for me has always been very, very special," Hearst explained. "We're all always there to support each other. We're kind of the guys that fill in the pieces to the puzzle."
---

IN-DEPTH
Learn more about actor Rick Hearst's recent surgery.
---
OUTSTANDING SUPPORTING ACTRESS
Genie Francis
(
Laura Spencer
,
General Hospital
)

Ask anyone the names of the most popular couple in daytime television history and nine-out-of-ten times the response will be "Luke and Laura." 2006 marked the 25th anniversary of Luke and Laura's wedding, an event that is still the most watched moment in daytime television history.
So it may be surprising that Genie Francis (Laura Spencer), a clear sentimental favorite among fans and the media, had only been nominated for a Daytime Emmy once previously - in 1997 for Outstanding Lead Actress. And some wondered if her brief four week Sweeps stunt return to coincide with the 25th wedding anniversary was enough to qualify for a Daytime Emmy.
It was.
"I am very overwhelmed," Francis beamed as she took to the stage to accept her award. "I've waited 31 years for this moment."
In addressing the criticism that some have leveled against her for having been nominated for a month's worth of work, Francis asserted that she was equally surprised that she had even made the Emmy ballot in the first place.
"I am thrilled that my cast stood behind me," Francis later said backstage said of her castmates pre-nominating her during the in-house nominations. "Who would have thought that a little four-week visit after I had really wrapped up there... that that would produce an Emmy after years and years of working year-round."
Francis also revealed that upon learning of her nomination back in March, she made a conscious effort to get herself "Red Carpet ready," losing 23 pounds. She is currently a spokesperson for the Medifast weight loss program.

IN-DEPTHFind out was scenes Francis submitted in her Emmy reel.