THE 34th ANNUAL DAYTIME EMMY AWARDS
Landon repeats, McClure earns surprise win
by
Dan J Kroll

Posted Friday, June 15, 2007 7:18:22 PM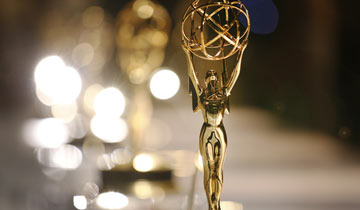 OUTSTANDING YOUNGER ACTOR
Bryton McClure
(
Devon Hamilton
,
The Young and the Restless
)
---

IN-DEPTH
Find out was scenes McClure submitted in his Emmy reel.
---
Every year there is a surprise winner in one category or another. Labeling the win a surprise in no way detracts from the quality of the performance of the winner. This year The Young and the Restless' Bryton McClure captured not only the title of biggest acting surprise of the night -- but also his first Daytime Emmy.
While some nominees have started that they labor over their choices for their Emmy reels, McClure confesses that picking episodes for his Emmy reel this year was an easy task.

"When the time came around to start picking shows, I had both shows already picked on my mind," McClure stated. "They were something that just stuck out through the year. The show where my biological mother had left town always stuck with me."
While this was a time to celebrate an Emmy win, McClure also took out time to discuss something that was equally close to his heart: a charity he started with his father called RADD Kids, the youth division of Recording Artists, Actors & Athletes Against Drink Driving.
"We thought it would be a great way to get a lot of my friends who are other celebrity youths to use their popularity in a good way," McClure stated.
While daytime fans know McClure from his work on Y&R, many other television viewers may remember him as little Richie during his eight-year run on the family sitcom, Family Matters.
OUTSTANDING YOUNGER ACTRESS
Jennifer Landon
(
Gwen Norbeck
,
As the World Turns
)
Same place, different time. For a second consecutive year, Jennifer Landon earned an Emmy for her work on As the World Turns. But while the actress has already had a taste of what it feels like to be nominated - and win - an Emmy, this year's experience was still very surreal for her.
"I can't necessarily put my finger on it. But it definitely does feel different," Landon said backstage. "I think it was more surprise last year and more shock this year."
Now with two trophies to call her own, the actress now has "bookends" for her mantel at home. However, Landon, the daughter of the late Michael Landon, may already be looking ahead to adding yet another Emmy to her collection.

"I'll keep it near the other one," Landon said when asked where she'd show off her Emmy. "I think feng shui calls for three things, but nothing in my apartment is feng shui."
And it Landon does want a shot at another Emmy next year, she's already on the right path. For the past few weeks the actress has been pulling double-duty on the show. In addition to play her usual role, she has taken on a second role -- Cleo. While there is definitely extra work involved, the actress is enjoying every minute of it.
"It's the most fun I've had in a long time -- since coloring in kindergarten, actually," Landon joked. "I have so much fun doing it. It's like this mask that I get to put on. I'm not gonna lie: I feel that Cleo comes from secret part of me. I carry some of her mannerisms. My friends have to remind me to stop blinking or talking like her."
With her win this year, Landon now joins a very elite list of young actresses. Only two other performers have pulled off back-to-back wins in the Outstanding Younger Actress field: General Hospital's Sarah Brown (Carly Roberts) took home Emmys in 1997 and 1998. Jennifer Finnigan (Bridget Forrester) of The Bold and the Beautiful pulled off a "threepeat," winning in 2002, 2003 and 2004.

IN-DEPTHRead what Landon had to say about her Emmy win last year.