THE 34th ANNUAL DAYTIME EMMY AWARDS
West nabs first prize, LeBlanc adds a second
by
Dan J Kroll

Posted Friday, June 15, 2007 7:41:54 PM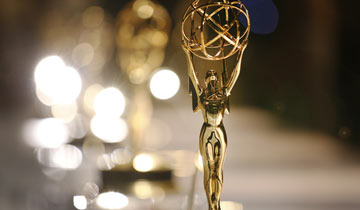 Christian LeBlanc
(
Michael Baldwin
,
The Young and the Restless
In one of the more amusing acceptance speeches on the night, LeBlanc mused that he had tried to psyche out his fellow nominees. The actor said that he had greeted As the World Turns' Michael Park earlier on the Red Carpet and told him, "I am sucking the luck out of you." LeBlanc added that he had to "apologize to [Ricky Paull Goldin (Gus Aituro, Guiding Light] for making a crank phone call" to his house. But when it came to Anthony Geary (Luke Spencer, General Hospital), "I was so scared of you -- I didn't do anything."
LeBlanc, a previous winner in 2005, became serious as he praised fellow nominees Geary and Peter Bergman (Jack Abbott, The Young and the Restless). The actor noted that both actors are part of some of the most famous soap couples of all time: Geary for GH's Luke and Laura and Bergman for All My Children's Cliff and Nina.

But the levity returned shortly thereafter.
"I'm never happy just to be nominated," he smiled. "But I am happy to be among them."

IN-DEPTHRead a biography of Emmy winner Christian LeBlanc.

OUTSTANDING LEAD ACTRESS
Maura West
(
Carly Tenney,
As the World Turns
)
What goes through the mind of an Emmy winner after hearing their name announced as an Emmy winner?
"Don't trip going up the steps," confessed Maura West. "And then -- honestly -- I might throw up."
It might not be the most glamorous of responses, but it certainly ranks with the most honest.

"I know that personally I liked my reel. I thought that it was good and had a fair chance," West replied when asked if she had heard that much of the soap press had picked her as the front runner to win. "I had heard through friends, 'I'm hearing good things.' I certainly never would dream that it would actually happen because you'd be a pompous ass to think that you'd actually get it."
Indeed West had been pegged as a frontrunner before -- and each time she had gone home empty-handed. She earned nominations in the Outstanding Supporting Actress field in 2001 and 2002. She had a previous Lead Actress nod in 2004.
West commented that she would like to return to her alma mater, Boston University, "to share what little I know with the students there."

IN-DEPTHFind out what other stars have been named Outstanding Lead Actress.