THE 34th ANNUAL DAYTIME EMMY AWARDS
GL, Y&R tie for top drama series
by
Dan J Kroll

Posted Friday, June 15, 2007 7:48:43 PM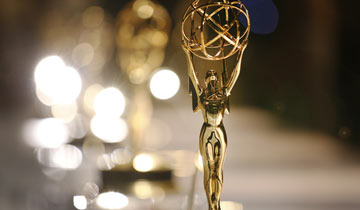 Guiding Light
and
The Young and the Restless
It's never happened before in Daytime Emmy history: two soaps tied for the biggest honor of the night, Outstanding Drama Series. Even presenter Rachel Ray seemed surprised when she opened the envelope and found two pieces of paper inside.

"70 Rocks!" Guiding Light's executive producer Ellen Wheeler said when asked how it felt to win the night's top prize. Most if not all of Guiding Light's cast members were sporting "70 Rocks!" buttons, a nod to the show's yearlong celebration of its 70th anniversary. For 70 years fans of Guiding Light have been tuning in, and Wheeler said that she understands that winning the Outstanding Drama Series crown had everything to do with the viewers on the other side of the television screen.
"It belongs to our fans who have been there for us," Wheeler said, prompting what would be the most stunning declaration in Daytime Emmy history.
"Seven people will have the opportunity to have this very Emmy come visit them in their home," Wheeler said pointing to the golden statuette clutched tightly in her hands.
Wheeler urged fans to visit the show's web site, "FindYourLight.net," devoted to making a difference and volunteering. Details of how and when fans can enter to win a chance to spend some time with the lovely Emmy will be made available at a later time.
This marked only the third time that Guiding Light was honored as Outstanding Drama Series. Its last win came 25 years ago, in 1982. Its other win was in 1980.
The other top soap winner was The Young and the Restless, notching its sixth win in 28 nominations. For 22 consecutive years, The Young and the Restless has found its name in the Outstanding Drama Series field.
"I'm just so honored to be here," said Y&R's executive producer and head writer Lynn Latham. "It's just a gift. There are so many people involved and so many people to thank. I mean this sincerely I have never worked with a cast of this caliber."

In this, her first full year as the show's head honcho, Latham dismissed talk that she somehow was brought aboard to turn around a show that might be losing its direction. Latham disagreed strongly with that assertion, but did admit to making some changes in the way things are done.
"It was a marvelous show when I came on," Latham stated. "We have tried to speed up the pace of the show."
Latham also noted that the show has experimented with new music and new filming techniques.
When asked how it felt to share the top honors of the night, Latham replied simply, "It's marvelous. Honestly."
Guiding Light's Wheeler was just as diplomatic. "I wish we could give [an Emmy] to everybody!"
A COMPLETE LISTING OF THE WINNERS AND NOMINEES