THE 35th ANNUAL DAYTIME EMMY AWARDS
General Hospital wins tenth Drama Series crown
by
Dan J Kroll

Posted Saturday, June 21, 2008 10:26:09 AM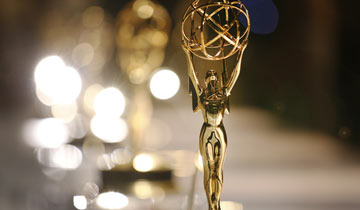 General Hospital
You would think that it's a rare occurence when the Outstanding Drama Series winner collects just only one other trophy on Emmy night. In actuality, it's not all that rare. Last year's co-winner, Guiding Light, picked up only one other win on Emmy night. In 2005, GH was named top show and also took home top directing honors. And in 2001, One Life to Live was named Outstanding Drama Series and the ABC soap didn't win any other categories at all.
This year, ABC's General Hospital continued the odd trend. The show picked up a record-setting tenth top show honor, but was virtually overlooked in the other 19 categories on this year's Emmy ballot. GH's only other wins came for its casting director, Mark Teschner, in the Outstanding Achievement in Casting category, and Anthony Geary in the Lead Actor field. Overall, the show garnered just six total nominations, putting it in second-last place for total nominations received.
So how does a show win the biggest honor of the night, but almost nothing else?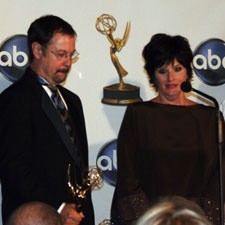 "We're thrilled about the win," executive producer Jill Farren Phelps told the press. "I don't know what to say about how this year's [Emmy voting] was set up. A lot of our really great actors didn't get nominated, but we can get over that now because we won best show."
Earlier, in accepting her Emmy, Phelps showed flashes of her trademark confidence, and also some little seen humility, in learning that General Hospital had picked up the Outstanding Drama Series win.
"Well this was expected," Phelps commented. "I want to share something that we've learned in our 45 years, 11,500-plus episodes. We've learned it from the characters that you see on the screen and from the characters you don't see who are the ones standing here with me now. No matter what calamity we face, whether it's our evil twin appearing out of nowhere or a brokenhearted love affair or for us the fictitious wrath of Mother Nature, we've learned that courage and faith with get us through anything. So to all our friends who are struggling now because of floods or high gas prices or war or loss of someone dear, we offer our prayers for you to have courage and a lot of faith. We are nothing if not resilient, and in this most challenging time, our thoughts are with you."
For its Outstanding Drama Series reel, General Hospital selected two episodes from its 24-style Metro Court hostage drama that aired in February 2007. Back in the press room, Phelps offered some explanation as to how the show selects its clips for Emmy consideration.
"You choose something that makes the audience feel," Phelps revealed. "Make them laugh, make them cry, make them respond. And if you don't bore them and you excite them, then I think that you have a good show."
A COMPLETE LISTING OF THE WINNERS AND NOMINEES