A beautiful 30something is afraid that her looks have tarnished. Suitors no longer clamor for her attention the way they once did. Eventually, however, as her mid-life crises raged on, she was rescued from the throes of obscurity by a knight in shining armor.
Sadly, it's not a melodramatic storyline from one of daytime's eight remaining soap operas. It's the story of the 36th Annual Daytime Emmy Awards, the highest honor bestowed upon daytime entertainment.
For much of the year, the talk wasn't about who would win a Daytime Emmy, but rather if there would be a Daytime Emmys telecast. Because of economic reasons, CBS opted out of broadcasting this year's awards ceremony. ABC had a chance to step in, but it, too, passed. Even SOAPnet, the all-things-soaps cable channel, declined.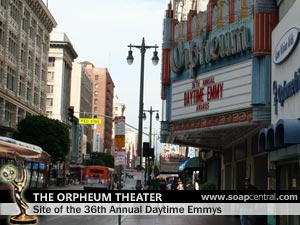 Rather than being relegated to someone's living room, Associated Television International stepped in with a new vision for the Daytime Emmy telecast. That vision included something that seemed improbable just five years ago: for the first time in its history, the Daytime Emmys would not broadcast on one of the three major networks.
The Emmy ceremony was also shifted from the posh Kodak Theater in Hollywood to the Orpheum Theatre in downtown Los Angeles. In perhaps an unintentional and ironic bit of symbolism, the Orpheum, once one of four vibrant venues built during the height of 1920s vaudeville, sits on the same street as three other shuttered theaters.
Though the mood may have been more somber than in years past, daytime's bright stars -- from the world of soaps, children's television, talk shows, court shows, and game shows -- turned out to honor those nominated as the best in daytime television. The event was hosted by Grammy winner Vanessa Williams, who on the surface has no ties to daytime television, but who says she watches talk shows and court shows in her dressing room, and admits to having been a regular viewer of soaps "way back in the day."
As the term "changes" repeatedly linked itself to all Emmy discussion, the night also saw its share of surprises. There were five first-time winners, some exuberant exclamations from the stage, and seemingly overdue recognition for a daytime drama series that is believed to be the most-watched program in the world.