THE 36th ANNUAL DAYTIME EMMY AWARDS
LeBlanc hits three, while Haskell goes two-for-two
by
Dan J Kroll

Posted Monday, August 31, 2009 2:53:44 AM

Christian J LeBlanc
(
Michael Baldwin
,
The Young and the Restless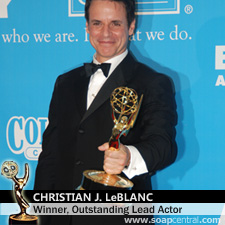 Since 2004, General Hospital's Anthony Geary (Luke Spencer) and Christian J. LeBlanc (Michael Baldwin) have dominated in the Lead Actor category. In fact, the two men have alternated as winners every year since then. For Geary, a win this year would have cemented his place in history as the winningest performer in a lead acting category. In the end, however, LeBlanc picked up his third trophy, tying him with Peter Berman (Jack Abbott) as the Y&R actor with the most wins in the Lead Actor field.
Before taking the stage to accept his award, LeBlanc kissed his co-star and date for the evening, Michelle Stafford, as well as heading to The Bold and the Beautiful's section of the audience to give a kiss to Y&R co-creator, Lee Phillip Bell. On stage, however, LeBlanc offered one of the more cryptic acceptance speeches of the night, a speech that on several occasions referred to soup.
Backstage, LeBlanc attempted to clarify exactly what he'd ben referring to.
"Does anyone know that allusion or did I totally lose [everyone]? It is one of my favorite quotes in theater. The poor, homeless woman is looking at [artist Andy] Warhol's Campbells Soup [painting]. And all through that play, she can't figure out, 'Is it soup or is it art?' And at the end, she figured it out."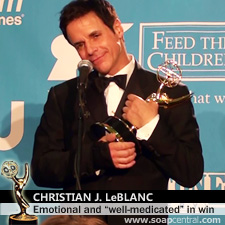 For LeBlanc, the pomp and circumstance of Emmy Night is the soup. The daytime community, however, is the art. LeBlanc also had high praise for his fellow nominees in the Outstanding Lead Actor category.
"These guys were legends -- and are still -- when I was beginning [in daytime]," LeBlanc stated. "They're inspirations. There couldn't be a classier bunch of guys. I was in the deep end of the pool."
Though this year marked LeBlanc's third win in the category, this year he showed surprising emotion.
"Someone texted me right before and said 'Be present.' Don't ever be present on a stage when you're getting a prize! You'll just dissolve into tears," LeBlanc joked of his on-stage reaction.
LeBlanc, who underwent surgery for a broken wrist earlier this month, also mused that despite his tears he is still "pleasant and delightful... and well-medicated."
OUTSTANDING LEAD ACTRESS

Susan Haskell (Marty Saybrooke, One Life to Live)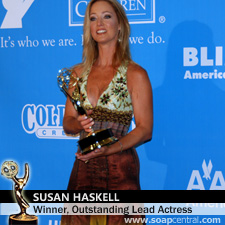 "I can't tell you how wonderful it is to be there," Haskell said of her return to One Life to Live following an eleven-year absence as a contract player. "But I guess the thing that I have to thank this show the most for is, you pretty much gave me my life. You introduced me to that man over there. Some of you know him as Zach Slater. I won't tell you what I know him as. He is everything to me and he gave us a life. McKenna, more than anything ever, Marlowe, I love you so much. I will try to get all the autographs from Sesame Street as best as I can."
Haskell has been nominated twice for a Daytime Emmy -- and twice won. Her first win, in 1994, was propelled by a brilliant performance in a storyline revolving around her character's rape by a group of frat brothers. This year, Haskell secured her win through a stellar performance in a controversial storyline where her character, suffering memory loss from an accident, fell in love with one of her rapists. As it turns out, fans were not the only ones who may have had some hesitation over the plot twist.
"I'll tell you what, I was very concerned," Haskell ceded. "I had to trust the people that are writing for me. It's my job and I do it to the best of my ability. It doesn't always agree with everything that I maybe think that would happen, but that's drama and I certainly am not out to offend people. I hope that they understand that this is a drama series and I will do my best to stay true to the character."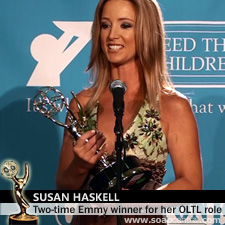 Off-screen, Haskell and her long-time partner, All My Children's Thorsten Kaye (Zach Slater), currently find themselves in the unenviable position of having to decide how they will handle ABC's recent announcement that All My Children will be moving from New York to Los Angeles. Kaye has previously expressed that he does not want to be 3,000 miles away from his children, but Haskell remains under contract to One Life to Live, which will continue production in Manhattan.
"Everybody wants to know if he's coming out here," Haskell said of the big question of the night. "Not without me! That's a lot to digest with the kids and everything. So we'll just see."
One Life to Live now holds a whopping eleven wins in the Lead Actress category, more than twice the total of the second-place soap. Haskell's castmate, Erika Slezak (Viki Buchanan) has six wins, former OLTL star Judith Light (ex-Karen Wolek) picked up two consecutive wins in the 1980s, and Robin Strasser (Dorian Lord) and Hillary B. Smith (Nora Hanen) each have a previous win.

IN-DEPTHFind out what other stars have been named Outstanding Lead Actress.

MAKING HEADLINES: SOAP OPERA NEWS, UPDATES, AND HEADLINES