To skip ahead to the list of nominees, click here.
The nominations for the 38th Annual Daytime Entertainment Emmy Awards were announced on Wednesday, May 11. For the first time in recent memory, the nominations for this year's Daytime Emmys were not announced on network television. Instead, the nominations were revealed online in a press release.
General Hospital was once again the most-nominated program on daytime television. The ABC soap topped the tally with 21 nominations. In its final year of eligibility, CBS's As the World Turns received four nods.
For the second consecutive year, the Daytime Emmys will be broadcast live from Las Vegas, Nevada. Wayne Brady will serve as master of ceremonies for the telecast, which will air Sunday, June 19, at 8:00pm Eastern on CBS.
Drama Series
With just seven soaps on the air, it was unclear just how many soaps would be eligible for the Emmys' highest honor. When the nominations were announced, four shows received nominations in the category.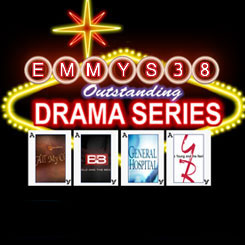 The Bold and the Beautiful has a chance to do something that has only been accomplished twice before in Daytime Emmy history: win three consecutive Outstanding Drama Series trophies. General Hospital most recently earned a threepeat, picking up wins in 1995, 1996, and 1997. Santa Barbara is the only other soap to notch three wins in a row. The now-cancelled NBC soap won in 1988, 1989, and 1990.
ABC's All My Children, which will be ending its 41-year run this fall, picked up its 31st nomination for Outstanding Drama Series. The show was nominated every year in this category from 1976 through 2002. AMC has been named Outstanding Drama Series three times.
General Hospital, which has a record-setting ten wins in the category, was nominated for a 23rd time. The show's most recent win was in 2008.
The Young and the Restless, television's most-watched soap for more than two decades, also picked up its 31st nomination for Outstanding Drama Series. The show's last win in the field was in 2007, when it shared honors with Guiding Light. Its last solo win was in 2004.
Lead Actor and Actress
As the World Turns' Michael Park (Jack Snyder) has a chance to win back-to-back Emmys. The actor is one of three stars from the show to receive Emmy nominations in this, the final year of eligibility for ATWT. As the World Turns ended its 54-year run in September 2010.
All My Children's Ricky Paull Goldin (Jake Martin) earned his first Lead Actor nomination for his work on the ABC soap. Last year, Goldin was a Supporting Actor nominee. He previously received two Lead Actor nominations for his work on Guiding Light.
Over the past decade, it's become expected that the Outstanding Lead Actor winner would be either General Hospital icon Anthony Geary (Luke Spencer) or The Young and the Restless' Christian J. LeBlanc (Michael Baldwin). Last year, for the first time in seven years, neither Geary nor LeBlanc appeared on the final ballot. This year, LeBlanc is back in the field -- his ninth nomination. He's picked up Emmy wins in 2005 and 2007.
Days of our Lives star James Scott (E.J. DiMera, DAYS) and Y&R's Doug Davidson (Paul Williams, Y&R) were both repeat nominees. It marks the second nod for Scott, and the third for Davidson.
Three of the Lead Actress nominees have never won an Emmy: AMC's Alicia Minshew (Kendall Hart) and ATWT's Colleen Zenk (Barbara Ryan) have been nominated before, but GH's Laura Wright (Carly Jacks) received her first-ever nomination this year. Minshew is a first-time Lead Actress nominee. She earned a Supporting Actress nomination in 2009. Zenk picked up a Lead Actress nomination in 2002 and a Supporting Actress nomination the year before.
Many pundits believe that the frontrunners in the category are Debbi Morgan (Angie Hubbard, AMC) and Michelle Stafford (Phyllis Summers, Y&R). Morgan has never won in the Lead Actress category, but in 1989 Morgan tied for a Supporting Actress Emmy. Stafford has six previous nominations in the Lead Actress category and has won twice.
Maura West (Carly Tenney, ATWT) was the winner in this category last year. She did not receive a nomination this year.
READ REACTION FOR THIS YEAR'S NOMINEES
CLICK HERE TO VIEW A LIST OF THIS YEAR'S NOMINEES
FIND OUT WHICH STARS WERE PRE-NOMINATED FOR AN EMMY
DISCUSS THE EMMY NOMINATIONS ON OUR MESSAGE BOARDS