OUTSTANDING SUPPORTING ACTOR
Jonathan Jackson
(
Lucky Spencer
,
General Hospital
)
Of the five men nominated in the Outstanding Supporting Actor category, just two were previous Daytime Emmys winners -- including last year's winner, Billy J. Miller (Billy Abbott, The Young and the Restless). The group combined, however, for 17 nominations. Jason Thompson (Patrick Drake, General Hospital) earned his first nomination this year, while Doug Davidson (Paul Williams, Y&R), who'd been nominated twice previously in the Lead Actor category, showed up in the Supporting Actor category for the first time.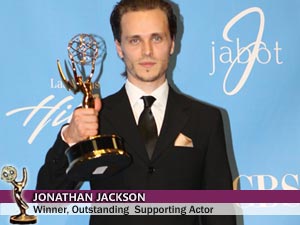 Jonathan Jackson's (Lucky Spencer, GH) name is no stranger to the Daytime Emmys. The General Hospital actor tallied three wins as Outstanding Younger Actor in the 1990s. Jackson left daytime before graduating out of the age-restricted Younger Actor field, but his return in 2009 earned him his first Supporting Actor nomination. This year, he earned his first win in the category.
"It was sort of a blur, to be honest," Jackson revealed after winning. "I thought it was all still part of the magic trick until Rachael Ray said that I was the winner."
Jackson was referring to an unusual presentation by comic magicians Penn & Teller. The duo purportedly had five cards, each with the name of an Outstanding Supporting Actor nominee, and Teller was to stab a card with a knife to reveal which one would be the winner. After a few gags, that included Susan Lucci's name being "selected" as the winner, Jackson's card was shown to the camera. Rachael Ray then ripped open the traditional envelope and confirmed that Jackson had won.
Flanked by two of his children, Jackson stated that he and his wife, actress Lisa Vultaggio, had decided to bring their children along to the ceremony because it was Father's Day.
During his acceptance speech, Jackson took time to acknowledge his co-stars who appeared in his Emmy-winning reel with him: Tyler Christopher (Nikolas Cassadine) and Rebecca Herbst (Elizabeth Webber). In the scenes, Jackson's Lucky confronted Nikolas and Elizabeth after learning that they'd had an affair.
"It [was] difficult because I really love them as people," Jackson noted of filming the confrontation scenes. "At some point, you have to go there. I asked Tyler and Becky to come aside, and we all said a prayer together because I don't really like going to these places. As soon as the camera would cut, I'd say, 'Sorry, Becky,' and she said, 'It's okay!'"
Jonathan Jackson's win gave General Hospital its eighth win in the Supporting Actor category, three more than any other soap.
Photo Credit: Kat Guarino/Soap Central
OUTSTANDING SUPPORTING ACTRESS
Heather Tom
(
Katie Logan
,
The Bold and the Beautiful
)
Like Jonathan Jackson, Heather Tom (Katie Logan, The Bold and the Beautiful) is no stranger to the winners' circle at the Daytime Emmys. During her 20-year career in daytime, a career that spans three different soap operas, Tom has picked up two Daytime Emmys. Including this year, Tom has received 13 Daytime Emmy nominations.
Until this year, she had never won an Outstanding Supporting Actress trophy.
Tom was, however, in good company. Four of the six actresses nominated this year in the Supporting Actress field had never before won in the category.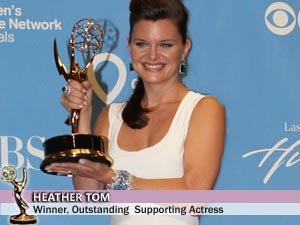 During the telecast, a voiceover announced that this was Tom's first-ever Emmy win. Backstage, pumping her latest trophy in the air, Tom mused that "this should set them straight." Tom went on to ponder the future home of her third Emmy, saying that she already had bookends, and the latest could be "a paperweight or a hood ornament."
In a category where many critics split over who would win Emmy gold, Tom admitted that she didn't think she was a lock to win.
"Oh gosh, I thought my competition was pretty stiff," Tom admitted of her fellow nominees. "This is a great surprise, but it's a surprise nonetheless. I thought that you could've thrown a dart in this category, and any one of those beautiful ladies could've gotten up on stage and would have been very deserving. I know almost all of them, and I'm a big fan of all of their work, and I was rooting for all of them."
Tom also made sure to apologize to her boyfriend, James, who she'd forgotten to thank during her on-stage acceptance speech.
Heather Tom is the first actress from The Bold and the Beautiful to ever win in the Supporting Actress category.
Photo Credit: Kat Guarino/Soap Central