THE 38TH ANNUAL DAYTIME EMMY AWARDS
On the Red Carpet: Wally Kurth
by
Dan J Kroll

Posted Saturday, June 25, 2011 1:32:10 AM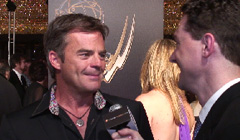 Days of our Lives star Wallace Kurth (Justin) talks about why soaps don't get the respect they deserve, confesses that he's been checking up on some of his daytime colleagues by visiting the Soap Central site, and talks about his nine daytime marriages and three in real life.
EMMY VIDEO: ON THE RED CARPET

Michael Park
Jack Snyder, ATWT

Kristian Alfonso and Peter Reckell
Bo and Hope, DAYS

Daniel Goddard
Cane Ashby, Y&R

Wally Kurth
Justin Kiriakis, DAYS

Stephen Nichols and Pat Sajak
Tucker, Y&R/Patch, DAYS
and Wheel of Fortune host

Scott and Melissa Reeves
Steven, GH, and Jennifer, DAYS
More Red Carpet videos are on the way... keep checking back!

Marcy Rylan
Abby Carlton, Y&R
EMMY VIDEO: BACKSTAGE

Heather Tom
Katie Logan, B&B

Jonathan Jackson
Lucky Spencer, GH

Brittany Allen
Marissa Tasker, AMC

Scott Clifton
Liam Cooper, B&B

Laura Wright
Carly Jacks, GH

Maria Arena Bell
Executive producer and
head writer, Y&R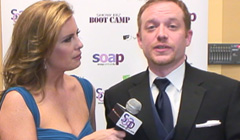 Tom Casiello
Writer, Y&R
Interviews with Y&R writer Tom Casiello, B&B exec Brad Bell, and Shemar Moore are on the way. Keep checking back!
Share this story with friends, family or the world.

SEND TO A FRIEND
Email this article to a friend.

PRINTABLE VERSION
View a printer friendly version of this article
---